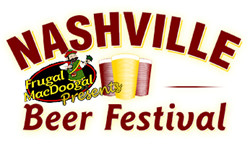 The festival is hosted and organized entirely by locals. Our main mission is to promote local breweries, groups and businesses.
Nashville, TN (PRWEB) September 05, 2012
The craft beer scene in the Nashville area is booming. As a celebration of the local industry's growth the Second Annual Nashville Beer Festival will be taking place Saturday, October 6. The goal of the Nashville Beer Festival is to create a higher awareness of local craft beer and set the stage to annually highlight all of Nashville's local breweries.
The very first Nashville Beer Festival took place last year and quickly sold-out, drawing an attendance of 2,700 beer connoisseurs. With more than 80 craft beers from around the nation featured at this year's festival, along with a special emphasis on local and southeastern brews, organizers expect a similar attendance. The festival will offer visitors a wide range of food and other activities as well as opportunities to gather a bit of beer brewing knowledge from local brew masters.
Previous to 2007 there were only a total four breweries in Music City. That number has more than tripled in a span of five years and also includes one contract brewer. After over a year of research, communication and collaboration with other members of the Nashville brew industry, the festival's Beer Advisor, Doug McFerrin, discovered the Nashville area now has 20 breweries either in full operation or in process of becoming licensed. Several mainstay breweries in Music City, such as Boscos, Blackstone and Yazoo have now been joined by upstarts like Jackalope, Calfkiller (Sparta, Tenn.) and Fat Bottom, all of which are developing a devoted followings as seen on their Facebook pages.
Doug Brumley, one of the several popular beer bloggers in Nashville commented on the positive change seen in the Nashville local brewing landscape. "The beer scene in Nashville has really flourished over the past few years and has come to represent more of a beer community than anything else." Brumley's blog can be found at Fledglingbrewer.com. For those interested in more in-depth commentary on the growing Nashville beer community, Sean Smith also maintains a beer blog at Nashvillebeergeek.blogspot.com.
The craft beer movement in Nashville has also spurred on other festivals, beer tasting events, and an increase in local craft beers served at local bars & beer clubs like the Music City Beer Society. In addition, this growth has attracted the attention of national beer events such as New Belgium's popular Tour de Fat. Nashville is one out of only five cities in the eastern region of the country included in the "ballyhoo of bikes and beer," which is held annually in15 major cities from LA to Chicago to Atlanta.
"The festival is hosted and organized entirely by locals. Our main mission is to promote local breweries, groups and businesses," stated one of the festivals organizers, Dr. Marc Smith, DVM. "The response from the beer industry as well as the public's outward support of the festival has been tremendous. This only goes to show the high level of interest surrounding craft beer in the Nashville community."
Tickets to the Nashville Beer Festival are $35 and available for purchase on http://www.nashvillebeerfestival.com. Tickets are limited, so guests are encouraged to get tickets early. A list of Nashville breweries can be found below.
For more information on the 2012 Nashville Beer Festival including marketing and advertising details contact Chuck Harter with Horton Group 615-292-8642. For additional details contact Marc Smith with Pet Tao Pet Foods at, 615-942-5756.
Nashville Area Breweries
Boscos
Blackstone
Yazoo
Big River Grille
Jubilee
Broadcast
Fat Bottom
Jackalope
Mayday
Nashvillion
Black Abbey
Turtle Anarchy
Cool Springs
Honky Tonk
Panther Creek
Little Harpeth
O'Possums
Briarscratch
Bell Buckle
Calfkiller