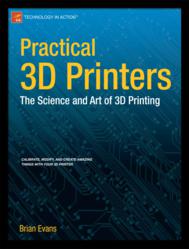 New York, NY (PRWEB) September 05, 2012
Have you ever envisioned an idea that you wished you could communicate to a computer and have it made for you? If that idea includes a 3D plastic object, then chances are "Practical 3D Printers" by Apress author Brian Evans, can do that. A 3D printer is a device used to make toys, art, and even 3D images captured by a sensor or modeled in software. The book provides step-by-step instructions on everything from obtaining and setting up a 3D printer to creating and designing 3D objects for even the novice hobbyist.
Unlike other books of its caliber, "Practical 3D Printers" doesn't just focus on one type of 3D printer, but talks about all 3D-printer devices currently on the market. Readers are shown how to choose a printer, customize and calibrate it, and how to make something with it. For help with generating 3D ideas, Evans touches on how to design and create a 3D model too, including the use of Google Sketchup. "Practical 3D Printers" is to the 3D printing world what "Practical Arduino" was to the Arduino world: the first full-featured guide to what you can actually do with the device.
As a Professor of Fine Art at Metropolitan State College of Denver, Evans shares the instructional techniques he uses in his own art and design courses. This includes how to incorporate 3D printer use into students' emerging art and design practices and careers.
For more information on "Practical 3D Printers," please visit http://www.apress.com/9781430243922.

ISBN 9781430243922
332pages
User Level: Beginner to Intermediate
Publication Date: August 29, 2012
Available eBook Formats : EPUB, MOBI, PDF
Print Book Price : $39.99
eBook Price: $27.99
About Apress Media
With more than 1,000 books in print and e-formats, Apress is the authoritative source for IT professionals, software developers, and business leaders all over the world. Apress provides high-quality, no-fluff content that helps serious technology professionals build a comprehensive pathway to career success. Since 2007, Apress has been part of Springer Science+Business Media, one of the world's leading scientific, technical, and medical publishing houses, enabling global distribution of Apress publications. For more information, please visit http://www.apress.com.