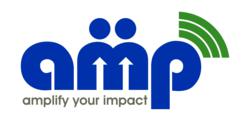 San Francisco, CA (PRWEB) September 10, 2012
Professionals working on environmental and social progress are one step closer to a single website dedicated to the information they need. AMP, positioned to be the starting point for sustainability, today announced the launch of its fundraising campaign on Indiegogo. Funding will allow AMP to create the beta version of its website.
Started by two MBAs from Presidio Graduate School, AMP will deliver the best up-to-the-minute information and resources that professionals require to drive innovation and reduce their organizations' environmental and social impacts. The need for such a site became clear during their graduate studies, as they observed fellow students spending countless hours wading through internet search results, duplicating efforts, and trying to find actionable information they could trust.
"Sustainability, for us, is about how we create a world where all living things can thrive—now, and in the future," said AMP founder Sarah McKinney. "Making changes as individuals is important, but the impact organizations can have is far more powerful. The top 3,000 publicly-traded companies cause $2 trillion in environmental damage every year! But the good news is there is a lot of interest in correcting this harm, with half of S&P 500 companies now reporting on sustainability." And for good reason: Sustainable business practices offer cost savings, efficiencies, risk mitigation, competitive advantage, brand loyalty and employee satisfaction.
But it's an overwhelmingly complex, interconnected and dynamic space, so it's little wonder, McKinney observed, that no one has yet tried to pull together all of the information needed into a single, open-access destination. And as inefficient as those searches were for students, it's even worse for busy professionals. "They need a way to quickly find what has worked well for others and to benefit from that research without starting from scratch," McKinney said. "AMP will give them the place to begin."
Although other sites have some of the functionality that AMP will deliver—such as collaborative bookmarking and file sharing— "Only AMP will provide these features in one place, without membership fees, and completely focused on sustainability," said Chief Innovation Officer John Lehnert. Unique features will guide users to the most useful content: pre-categorized, action-oriented links, rating and testimonials, and a marketplace for document exchange—offering users an option for income generation. The site will further build the community with collaborative features for both information providers and those seeking data and resources.
The site will go live with an extensive library of information and resources collected over the past year, providing immediate value to users. "With content submitted and rated by the AMP community, we'll work with them to ensure that only the best, most relevant information is published," Lehnert said. The range of material on AMP will include statistics, lists, networks and coalitions, resource platforms, forums, e-newsletters, case studies, tools, reports, best practices and success stories, all organized for easy comparison.
"It's heartening to see how many individuals and organizations are doing this essential work," McKinney said. "And yet there is still so much to do – and the sooner the better. We hope AMP can accelerate progress by helping professionals amplify their own impact, as participants in our learning community."
The AMP fundraising campaign is now active on Indiegogo:
http://www.indiegogo.com/ampyourimpact