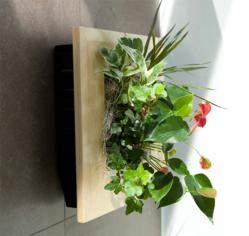 Stevensburg, VA (PRWEB) September 06, 2012
Wallflower USA announces their strategic partnership with ProFlowers®, a brand of Provide Commerce®, to be the first retailer to showcase their one-of-a-kind creation. The Wallflower is an award winning vertical framed wall-garden, a forerunner in the latest gardening trend keeping in-line with ProFlowers® innovated mind set and product line.
"ProFlowers® is all about quality, in terms of its products and service, which resonates with how we run our company" said Coen Haakman, COO of Wallflower USA. "We are very proud to forge our partnership with ProFlowers® as it is crucial to partner with a trustworthy leader in the floral marketplace to showcase our revolutionary product."
What is a Wallflower? The Wallflower is an organic masterpiece; a living work of art. The Wallflower concept brings walls to life! Wallflower uses an assortment of vibrant plants contained in an artful manner inside a decorative frame. The concept is simple; however the Wallflower design and engineering took many years to formulate into a one-of-a-kind product. Equipped with a unique system of culture; the plants take root in a pouch filled with substrate specific to the plants, allowing them to develop throughout the seasons. The Wallflower is extremely easy-care, and makes a unique gift, as well as a striking addition to any home or office décor. Each frame is planted up by hand, and then carefully packaged to ship anywhere in the country.
ProFlowers® has been an innovator in the flower retail space throughout the past decade. They connect consumers with fresh-from-the-field flowers and have led the industry in providing a 7 day freshness guarantee on every order, offering 185 fresh cut varieties from eight different countries around the world. The latest addition to their unique portfolio can be purchased exclusively online at: [http://products.proflowers.com/flowers/Wallflower-Vertical-Garden-30062813?q=wallflower&viewpos=1&trackingpgroup=productsearch.
About ProFlowers®
ProFlowers®, a ProvideCommerce brand, was launched in 1998 to sell and deliver fresh cut flowers for everyday and special occasions, through its website, http://www.ProFlowers.com.
About Provide Commerce®
Provide Commerce is a leading online provider of high quality gifts backed by superior customer service. From fresh flowers, gourmet treats, to unique personalized gifts, the Provide Commerce Family of Brands is the destination for the perfect gift. Provide Commerce brands include: ProFlowers, ProPlants, RedEnvelope, Personal Creations, Cherry Moon Farms and Shari's Berries
About Wallflower USA
Located just outside Washington, DC; Wallflower USA is a company founded on creativity, innovation and service. The Wallflower is an organic artwork in a frame, equipped with a proprietary internal watering system which transports water from the reserve to the root system to create a one-of-a-kind organic masterpiece. Entirely assembled in the United States, Wallflowers are available in 3 standard sizes, with standard plant compositions. For more information on the Wallflower product line, please visit their website at http://www.wallflowerusa.com.