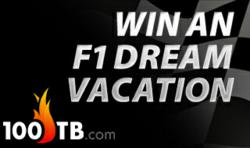 We've always done big things at 100TB.com; we're a big ideas, big products, type of company.
Salt Lake City, UT (PRWEB) September 06, 2012
100TB.com recently announced their F1 Dream Vacation giveaway including white glove treatment to the United States Grand Prix in Austin, Texas. The winner will be treated to supreme amenities with two VIP F1 Paddock Club passes, first class flights, limousine service, five star hotel accomodations, and $250 cash for personal spending. To enter the giveaway, 100TB.com will allot one entry per dollar spent on any new service including their well-known dedicated servers, CDN plans, and cloud servers. In addition, participants – 100TB.com clients or not – can leverage Twitter and Facebook for additional entries: ten per tweet on Twitter and 20 per Like on Facebook.
100TB.com selected the Formula One race in Austin as the F1 Dream Vacation desitination due to their partnership with the Marussia F1 Team. The Marussia F1 Team partnership gives 100TB.com exposure to new and diverse audiences across the globe – many of whom are business owners or in the technology sector, a natural fit to their innovative products.
"We've always done big things at 100TB.com; we're a big ideas, big products, type of company," said Thomas Hancock, the general manager of 100TB.com. "Some companies are all hat and no cattle but we're putting our money where our mouth is and going big in Texas; as they say, 'Everything's bigger in Texas.' Our F1 Dream Vacation giveaway, open to anyone, provides another opportunity to be front-and-center of a far-reaching audience."
Although 100TB.com has never conducted a giveaway to this magnitude they're no stranger to big news. In the beginning, when rumors of 100TB.com's high bandwidth business model emerged, the dedicated server industry questioned their ability to keep promises of large bandwidth offerings with every dedicated server. They not only kept their initial promise of ten terabyte servers but, a few years later, lead the industry to new territory by delivering 100 terabytes of bandwith with each server. 100TB.com's innovative strategy results in products and services coming to market before the curve.
Sharing a passion for innovation, speed and power, the Marussia F1 Team and 100tb.com partnership created a perfect marriage and textbook conditions for the F1 Dream Vacation giveaway.
"We are pleased to work with 100TB.com, whose contagious ambitions so closely reflect those of Marussia F1 Team," said Andy Webb, the CEO of Marussia F1 Team. "We look forward to the results of the F1 Dream Vacation giveaway and seeing them in Austin this November."
The F1 Dream Vacation giveaway will last until September 30th after which the winner will be announced on November 1st. The giveaway prize includes two VIP F1 Paddock Club passes to the United States Grand Prix on Nov. 16-18, first class flights for two people, four night stay in a five star hotel, limousine service, and $250 in cash. For more details on the F1 Dream Vacation giveaway visit http://www.100TB.com/F1.
ABOUT 100TB.com
The originator of 100TB dedicated servers, 100TB.com offers the latest in high power and high performance dedicated server hosting. Through their global network of on-demand data centers 100TB.com provides cloud and dedicated servers to clients across the globe and are committed to providing innovative and powerful hosting services. 100TB.com's technology is backed by the best-in-class network equipment, server hardware and world-class 24 x 7 support. 100TB.com is part of a global group of brands known as the UK2 Group. The UK2 Group has provided Web hosting, domain registration and Internet services to consumers and business alike since 1998. For more information about 100TB.com, visit http://www.100TB.com.