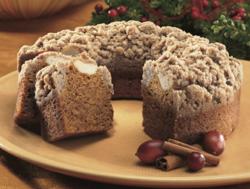 Pumpkin is a popular flavor this time of year.
Monroe, WI (PRWEB) September 06, 2012
After Labor Day, scents coming from the famous Swiss Colony bakery (http://www.swisscolony.com) make the citizens of Monroe, Wisconsin very hungry. Fall is the time when the bakery goes into full swing preparing for Grandparent's Day, Sweetest Day, Halloween, Thanksgiving, and the Christmas gift-giving and entertaining season.
While everything smells great at the hometown bakery, the most fragrant fall scents can be detected when the cakes, breads, coffee cakes and gingerbread are baked.
"Pumpkin is a popular flavor this time of year," says says Becky Henke, VP of Food at The Swiss Colony. "Our new Pumpkin Coffee Cake ($20.95) and new Walnut Oatmeal Pumpkin Cookies ($19.95) have an especially appealing scent when baked."
With so many gift opportunities packed into September through December, The Swiss Colony is a great place to shop for food gifts that everyone can enjoy.
What grandparent wouldn't love to receive a delicious gift in the mail as a sweet surprise? The Swiss Colony has more than 20 sugar-free items, along with a wide variety of nuts, chocolates, desserts, meats and cheeses to nibble on.
Crafted in the company's candy kitchen, real Wisconsin butter toffee ($16.95 - $49.95) is cooked in an old-fashioned copper kettle and poured on a copper candy work table just as it has been for decades. From start to finish, the candy artisans hand pour, hand fashion, and hand pack every single piece. It is one of Swiss Colony's most famous products and one that marks the start of the Fall season.
Luscious Petits Fours and Bonbons assortments are delectable for "sweeties" on Sweetest Day across the U.S. This year, three new flavors have been added to the Bonbon line up including Rocky Road, Bananas Foster and French Vanilla featuring ribbons of flavored butter creme and moist vanilla or chocolate cake ($17.95 for 24).
"There's a lot of hard work that goes into planning our candy, bakery and savory snack items each season," adds Henke. "We visit a lot of food trade shows and work with our R&D team to find the perfect balance between on-trend flavors and traditional favorites."
All of the sweet and savory treats can be found online at http://www.swisscolony.com and in the seasonal catalog. Browsing by holiday is easy by using the "Shop by Occasion" tab at the top of the website. Consumers can also "Shop by Price" or "Shop by Category" too, which makes searching for the perfect gift a breeze.
Special offers are posted on the company's Facebook page at http://www.facebook.com/theswisscolony. For more updates, follow product news on Twitter @TheSwissColony.
About The Swiss Colony
The Swiss Colony is a family-owned Wisconsin company that has been creating food gifts for more than 85 years. The company insists on the highest quality ingredients for a large selection of festively packaged gifts for every occasion.