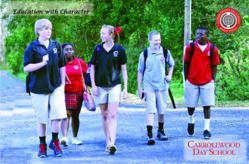 Tampa, FL (PRWEB) September 05, 2012
Carrollwood Day School will host an Open House Sunday, September 30, 2012 at 1:00 p.m. for prospective parents and students entering sixth grade through high school. The Open House will be held at the campus located at 1515 West Bearss Avenue. This program will include a short formal presentation about CDS. There will also be break out sessions for the International Baccalaureate (IB) Programmes and different grade levels. CDS faculty and current students will be on hand to share their experiences. Reservations are appreciated; please call Michelle Cáceres at 813-920-2288 or e-mail mcaceres(at)carrollwooddayschool(dot)org.
Carrollwood Day School serves students from 2-years-old through high school from Hillsborough, Pasco and Pinellas counties. Carrollwood Day School stands out as a leader in its mission to educate the whole child and is recognized nationally for its academic excellence and its innovative school-wide emphasis on character development. Carrollwood Day School is the first school in Florida authorized by the prestigious International Baccalaureate Organization to offer all three IB programmes for students in preschool through high school and is the sixth school in the U.S. to achieve this honor.
Carrollwood Day School is a non-sectarian, co-educational, independent day school accredited by the Florida Council of Independent Schools (FCIS), Florida Kindergarten Council (FKC), International Baccalaureate Organization (IBO), National Association of Independent Schools (NAIS) and National Association for the Education of Young Children (NAEYC). CDS admits qualified students of any race, color, and national or ethnic origin and is non-discriminatory in all policies and school administered programs.
Carrollwood Day School
1515 W. Bearss Avenue
Tampa, FL 33613
Phone: 813.920.2288
Fax: 813.920.8237
E-mail: sgauthier(at)carrollwooddayschool(dot)org
Website: http://www.CarrollwoodDaySchool.org
For more information, contact: Shannon Polo Gauthier, Marketing Director