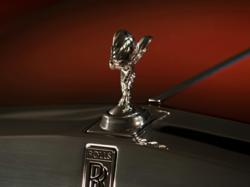 We see this as a one-of-a-kind history-making event.
(PRWEB) September 06, 2012
Just the image of a Rolls Royce conjures thoughts of wealth beyond measure, of prestige and of power – of oil sheiks, heads of state and billionaires being chauffeured to secretive meetings and "red carpet" events. Who, then, would even consider using a car of such exceptional beauty and style (and price tag) as a canvas? The creative minds at The Symbol of Success, that's who.
Partnering with a host of others, this innovative project involves the sale of ad space on a stretched, armored Phantom. Corporations all over the globe may purchase a piece of this history by having their name/logo and perhaps a short slogan painted on the car, by Jeff Barnes, the artist who became famous for his designs on the motorcycles featured in the Discovery Channel show, "American Chopper." The armoring will be achieved through Texas Armoring, a firm that armors SWAT cars for police and military nationwide.
Once all spaces are filled, an unveiling is planned in Las Vegas, amidst a full media blitz with attending public and entertainment personalities. From there, the completed "artwork" will take a tour, landing at international automobile shows in major cities all over the world. Once it arrives back "home," it will find a permanent spot in a Las Vegas casino or renowned car museum.
According to Yuri Seretsky , a partner in this endeavor, "We see this as a one-of-a-kind history-making event. We are open to hugely successful corporations, start-ups, growing enterprises, and even individuals who simply want to be a part of the project and have a permanent spot on a unique automobile that will be viewed by millions in years to come."
When asked how they were garnering participants, Yuri Seretsky said, "We have directly marketed this concept to successful business leaders, with a great response, and we have contacted large ad agencies all over the world. Word of mouth has also brought great reaction, and we will even use eBay, as the finals spaces are sold. The more important concept here, however, is to become a part of a unique historical event. We are excited about having Jeff Barnes as our painter, with his established reputation for excellence."
An early space purchaser stated, "I am not certain what the long-term brand recognition value may be; I am certain, though, that I want to put my company in a permanent slot on this phenomenal piece of automotive technology. What could be a greater symbol of success than this car? And it costs less than a half-page ad in a magazine."
As the project progresses, there will be updates on the details of the unveiling and other planned events.