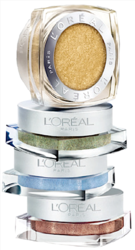 with these products, you don't have to worry with touch-ups or lip color fading
(PRWEB) September 13, 2012
BeautyStat.com -- the leading online beauty community for skincare reviews and makeup reviews -- loves a good giveaway! BeautyStat is more than excited to introduce the BeautyStat community with its latest L'Oréal Paris sponsored giveaway. With the site's recent launch of two new social platforms -- the Community Forum and Photo of the Day features -- L'Oréal Paris is giving away five sets of cosmetics from its Infallible collection including one Infallible 24-Hour Eye Shadow, Infallible Le Gloss 8-Hour and Infallible Le Rouge 10-Hour Lipstick (all in varying shades - see makeup swatches). BeautyStat loves reviewing L'Oréal products, so what better way to celebrate one of the site's favorite brands than by offering the BeautyStat readers a chance to win some of the staff's favorite products, which have been reviewed, swatched and adored before.
It's easy to enter! All BeautyStat readers have to do is post a comment/photo in BeautyStat's Community Forum and/or Photo of the Day sections, saying how to get their makeup to last all day long. Readers are welcomed to get creative with their responses: send in a link to a video you recorded applying your go-to makeup application look for all-day wear; send a photo saying which products they used to achieve their look or post links to the YouTube videos or blogs with their favorite fail-proof products already mentioned. L'Oréal Paris Infallible products pride themselves with budge-proof, long-lasting formulas with Color Fix Technology to allow the modern woman to not have to worry about bothersome eyeshadow touch-ups or have her lipgloss or lipstick color fade. BeautyStat wants to see how its readers get their own infallible makeup looks with a prize that will ensure their makeup application from ever fading, sliding or disappearing again.
BeautyStat.com (a NYC tech startup) is an online beauty community and social marketing agency for the beauty industry. It has been featured in Womens Wear Daily, New York Times, Forbes Magazine, NBC and CBS News. The strength of BeautyStat.com is its captive, engaged and influential 100,000+ community, 190+ blogger network and 40 million social network reach. BeautyStat.com works with beauty brands, retailers and PR agencies to connect them to the BeautyStat community for online PR events, advertising and rich consumer insights.
BeautyStat.com was founded by beauty entrepreneur Ron Robinson. Ron is a veteran cosmetic chemist who has worked for such leading beauty companies as The Estée Lauder Companies, L'Oreal, Avon Products and Revlon Products. Ron is currently a resident beauty expert for Allure magazine.