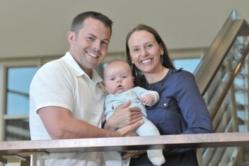 Learning how to walk all over again, and now just being able to jog is a tremendous victory for me.
Libertyville, IL (PRWEB) September 07, 2012
Last September, Mundelein resident Kirk Disrude suffered a stroke due to an undiagnosed heart condition. By all accounts, the 38-year old Physical Education teacher and coach at Maine East and South high schools was in good health—he'd even recently completed a triathlon.
His wife, Beth, who was 20 weeks pregnant with the couple's first child, rushed him to Advocate Condell Medical Center where doctors worked to save his life. Disrude then faced 11 grueling weeks in rehabilitation learning how to write, walk and talk again.
This October, he and his wife Beth will be running the Chicago Marathon.
"Learning how to walk all over again, and now just being able to jog is a tremendous victory for me," said Disrude. "Before the stroke, I'd never considered running in a marathon, but now I feel as though have so much to run for."
Beth has enjoyed training for the marathon with her husband. "Kirk is so inspiring to me. It's incredible to run alongside of him when less than a year ago he couldn't even walk. There are plenty of times while training for the marathon I have to ask him to slow down. He is so determined that sometimes I can't even keep up."
Dr. Raymond Chow, a cardiologist at Condell, attributes Disrude's strong recovery to his good physical health prior to the stroke. "He was in very good physical shape before he had the stroke. And he is committed to his rehabilitation," he said.
Disrude says that he is also driven to run the marathon for other stroke survivors. "I am going to run it for everyone whose lives have been impacted by a stroke. Stroke survivors are left with a varying range of abilities. I'm blessed to have the ability to run, where so many others affected by a stroke cannot."
To watch a brief video about Kirk and Beth Disrude's journey from stroke recovery to the Chicago Marathon, you can click here.