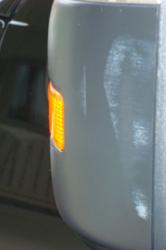 The GoClean Speed Sponge helps remove paint transfer
Avilla, IN (PRWEB) September 07, 2012
GoClean Products'Speed Sponge removes paint from textured plastics whlie using it with the companies Get Off Clean Paint Remover. Typcial applications include textured mirrors, bumpers and a variety of other paint transfer problems. Mike Liebing the owner of GoClean Products said, " Most customers believe that when they rub a mirror or bumper against a hard painted surface and get paint transfer that the part must be replaced. Thats not the case, our auction customers actually gave us this idea that they came up with when using our Get Off Clean Paint Remover along with our Speed Sponge allowed them to get into the grain of textured plastics to remove the transfer".
GoClean also reports that the Speed Sponge can be cut to size using a hack saw to make smaller sponges increasing the value of the sponge. It works on many surfaces including glass, chrome, concrete, tile and a unlimited number of hard surfaces.
GoClean Products, LLC., is an industry provider of unique automotive cleaning solutions. Contact the company at gocleanproducts.com or 260-413-4135.