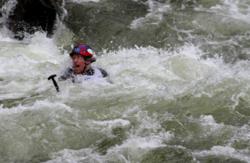 New River Gorge, WV (PRWEB) September 11, 2012
There's a craze sweeping the nation and it has nothing at all to do with presidential politics. This particular mania is the fastest growing segment of water sports the America has ever seen—stand up paddleboarding. Its popularity is due in part to the ease of getting atop a board and having a great time, even with no prior experience.
West Virginia is a happy rider of the SUP wave. Indeed, there's a boom within a boom here, so to speak—the state is a hot zone of a wild and wonderful subspecies of the sport—whitewater SUP.
On Thursday, September 13 (the day before Gauley Fest begins), WV resort, Adventures On the Gorge, will host the second annual Stand Up in Wild & Wonderful, a SUP race and festival held at Fayette Station in the very bottom of the majestic New River Gorge.
While the event is a great time for racers and SUP enthusiasts to gather, organizers also designed it with casual observers and the SUP curious in mind. "Stand Up in Wild & Wonderful is as accessible as we can possibly make it," said head event organizer, Melanie Seiler. "It's a great time for spectators, plus we'll have free board demos, as well as tons of space in an inspiring location to just hang out and watch."
For those who want to get their feet wet (literally), Stand Up in Wild & Wonderful is the SUP demo event of the year. "You're not going to find this many top-of-the-line boards to try out in one place in the state of West Virginia as you will on this day," said Seiler.
The event showcases one of the New River Gorge National River's premier SUP locations. Said Seiler, "Fayette Station is nestled under the New River Gorge Bridge, on a sandy beach right along side a raging class-IV rapid—it's stunning down there, and a terrific place to spend the afternoon." She encourages people to pack a picnic lunch and come hang out, even if they aren't racing or taking advantage of the board demoes.
"Last year's race was the best day of my life," beamed Seiler. "You should have seen all the folks that came together to support West Virginia and its growing role in this amazing new sport. I'm looking for another day like that, and I don't see any reason why Thursday, September 13 won't be it."
"This is just one more example of how fantastic this community is, and we're thrilled to once again be a large part of this fun, family-accessible event," said Adventures On the Gorge CEO, Paul Buechler. "SUP isn't just a rapidly growing segment of water sports to us. With programs on Summersville Lake and the New River, it's also a vital part of our adventure offerings. People love it, because even first timers can get up on a board and have a great day."
"A huge thank you to Adventures On the Gorge for the support of this year's race!" said Seiler. "The entire event was made possible by the resort and Paul, who gave me all the resources I need to pull it off."
Stand Up in Wild & Wonderful begins with free board demoes at the upper beach of Fayette Station at 10 am. An attainment race, where paddlers maneuver upstream against the current to round a bouy, begins at 2 pm, and a down-river race, with a thrilling mass start just above the class-IV Fayette Station Rapid begins at 3 pm. Adventures On the Gorge will host the after party and award ceremony with Slider Night at Rendezvous Lodge beginning at 6 pm.
In addition to SUP, Adventures On The Gorge offers whitewater rafting options that include half-day, full-day and overnight excursions. Coupled with TreeTops Canopy Tour, TimberTrek Aerial Adventure Park and Gravity Zip Lines, the 1,000-acre adventure resort offers activities that appeal to all ages. The new Canyon Falls swimming pool is a great spot for post-adventure relaxation for everyone.