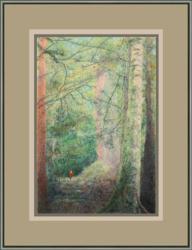 The art reveals itself, and changes depending on who is looking at it and how they are looking at it. Some people see it as objects and others see it as a flow of colors, a suggestion of mood.
Los Angeles, CA (PRWEB) September 06, 2012
Arlene Weinstock knows how to live in two worlds at once. Spending most of her life in corporate sales and marketing, she used her sensibilities as a fine artist to elevate her work in product development and graphic design. Nowadays Weinstock is straddling the worlds of fine art and education, having realized a life-long ambition to teach art when she moved to Los Angeles three years ago.
Weinstock received a degree in fine art at Boston University when she was starting out in life, but the university isn't where she found art. She did that near her little hometown of Brooklyn. New York that is. "I went to the Museum of Modern Art on a field trip in the eighth grade. It was like magic."
In the early 1990's Weinstock became interested in colored pencil as a medium. She wanted to start with still-lifes, but not the typical floral or fruit piece. When she found an old baseball glove with a wonderful patina, friends loaned balls and bats, and the resulting drawings sparked an enduring loyalty to the medium and style. "I do a lot of mixed media, often combining typical oil-based pencils with watercolor pencils, watercolor paints, ink and oil pastels."
A technique Weinstock frequently uses is called "frottage," a French term meaning "to rub." Considered a surrealist technique created by the artist Max Ernst in the early 20th century, in frottage the artist uses a pencil or other drawing tool to make a rubbing from a textured surface, like a child might overlay paper on a leaf and use a pencil to transfer the shape and texture of the leaf to the paper. Weinstock takes this a step further by creating textured boards over which she then rubs to transfer texture to a painting. Using modeling paste and gesso, she draws and presses objects into the board to create the various textures useful for different subjects. "I have a board I use when I paint pine trees. It allows me to transfer a texture onto my paper so the pine trees are not flat strokes of color, but three-dimensional objects. I have another set of boards I use for bushes."
Always looking for opportunities to combine and innovate, Weinstock doesn't settle for the colors offered in her pencil box. "I use several different pencils mixed one on top of the other to create very vibrant, custom colors."
"I'm interested in how art can appear to be both a mess of random color up close and a focused, meaningful image from afar. The art reveals itself, and changes depending on who is looking at it and how they are looking at it. Some people see it as objects and others see it as a flow of colors, a suggestion of mood."
When Weinstock frames her own work she keeps it simple, with metal frames in neutral colors and six-ply mats. "Thicker mats look really good." The approach works well for gallery showings and art-show buyers, plus it's sensible business. "Using a simple, affordable frame to showcase work means the buyer can take it home and hang it up as is, change it and keep the previous frame for reuse, or give the frame back to me and I can reuse it easily on a different piece. No matter what frame you choose, everything American Frame offers is gallery-worthy."
Weinstock's featured piece is "Finding the Path," completed in 2011 and put on her business card, "because a lot of people respond to it." She likes it because "vertical landscapes can be disorienting." If art is about seeing things in a new way, then this kind of disorientation is a good thing.
We framed "Finding the Path" in foggy neutrals to complement the dreamy quality of the image. See the custom treatment on American Frame's blog. To view all of Weinstock's work, visit her online gallery.