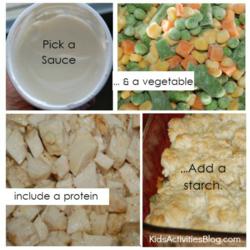 What IS for dinner?
Dallas, TX (PRWEB) September 05, 2012
What is for dinner? It is a question that comes up daily at every home in America. If that home has kids, likely the question has been asked multiple times. The family dinner stress has sent moms seeking new family dinner ideas to social media sites like Pinterest in search of the perfect family meal.
The elusive perfect family meal recipe is easy and uses ingredients that are already in the pantry. No one wants to add a trip to the grocery store to their already full to-do list.
This easy casserole recipe was well received because of its flexibility of ingredients suiting family preferences and pantry contents. Because it can be modified in many ways, it could even be the answer to what is for dinner tomorrow.
Click-through rates on Facebook and re-pins on Pinterest validated the theory that the search for easy dinner recipes is something that moms are seeking. Real life recipes that actually work for busy families are among the most popular social media offerings. It helps to have a beautiful photo, but the bottom line has been whether it is a realistic solution to the dinner time problem. Posts like easy bread recipe which highlight a recipe referred to as "Lazy Woman Bread" have also caught on leading readers to a simple way to serve homemade fresh bread at home.
Simple family solutions and things to do with kids is what is published daily at Kids Activities Blog. The kids activities bloggers show what has worked for them in their homes and with their kids.