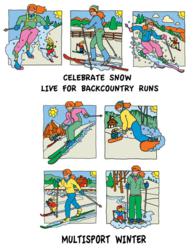 In this the year of the female athlete, MSJ celebrates women's winter sports
Ridgway, CO (PRWEB) September 06, 2012
Multisport Journeys, LLC (MSJ) expands its collection of female sports art to include seven new snow sports images bringing its "gal" collection to 50 illustrations that can be imprinted on its full range of outdoor activewear, casual apparel and gifts.
MSJ's latest creations include female athletes living to downhill ski, telemark ski, snowboard, snow shoe and cross country ski and for the first time includes backcountry images. In addition to its classic Singles artwork, MSJ has developed a gal snow sports Triple and Quad with multiple winter images grouped together. The snow gals are also available for lasering on MSJ's signature etched fleeces.
Mutlisport Journeys founder and CEO Sue Field explained her reasons for expanding her lineup of gals on the Company's customizable apparel featuring popular sports and adventure activities. Ms. Field said as a life long athlete, she believes it is important to encourage girls to be active and to embrace sports as a way of life, for their entire life.
"Sports teach us so much and those confidence building and leadership skills do carry over later in life as women start families and careers," said Ms. Field. "Plus, being active and outdoors is an important lifestyle to embrace to keep us all healthy and fit. Our gal artwork shows how fun it is to play sports and to be active. Now with our winter gals we can truly let girls and women proclaim in style, 'What Do You Live To Do?' with our 50 sports and travel art choices designed to inspire them to get moving and to try something new."
MSJ's online shopping portal lets consumers create custom wearable art and accessories by mixing and matching single, triple or quadruple groupings of the Company's guys, gals and couples artwork. The resulting design can then be printed, lasered or embroidered in the USA onto a choice of 250+ products including organic options and high performance wicking T-shirts, hoodies, hats, fleeces, bibs and mugs. In addition to choosing artwork, MSJ's easy to use website lets consumers pick the product style and color they want in their own unique design. MSJ's products are available in men's, women's, youth, toddler and baby sizes and styles.
About Multisport Journeys
Multisport Journeys promotes positive "get active outdoors" messages with 400+ original sports & travel images representing everything from mainstream sports (hiking, biking, skiing) to niche adventures (rock climbing, mountaineering) to team sports (soccer, lacrosse) to fitness (running, yoga), paddle (SUP, kayak) and travel (jeeping, ATVing) activities. MSJ's artwork can be laser etched into high quality fleece jackets or vests, printed on casual cotton or technical wicking apparel and embroidered onto baseball caps and snow beanies. The apparel brand is a prequel to a series of active travel guidebooks MSJ intends to publish that will be aimed at baby boomers and kids. To learn more about Multisport Journeys visit their website http://www.multisportjourneys.com