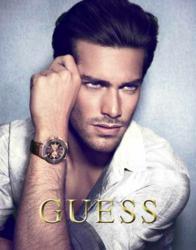 Norwalk, CT (PRWEB) September 07, 2012
GUESS Watches is daring this fall season with its new Mens collection. Brave, bold, cool and confident are the characteristics of the GUESS guy and the product developed for him. Original and innovative in its design, the styles are both functionally driven and filled with fashion.
The lead style is a sophisticated hybrid of sport and dress with a magnificent mix of textures, treatments, and finishes. The warm and refined trend of brown and rose gold is brought to life with a unique etched top ring, oversized crown and patterned dial; creating a style that emphasizes the true strength of the GUESS brand. The 45mm case in a rose-gold tone is enhanced with screw details. An understated textured multifunction dial provides a fresh finish to an industrial-inspired design.
Equally outstanding is a variation combining luxe brown and gunmetal-tones which offer a modern twist on a must-have trend.
For the man who dares to be different, GUESS Watches is a step ahead of the rest with these new statement pieces.
About GUESS Watches:
Guess Watches is a timekeeping accessory company with a focus on lifestyle driven fashion. Guess Watches launched its first collection in 1983 with a line of men's and women's fashion watches. Constant attention to new ideas and cutting-edge design keep the brand relevant to today's trends.