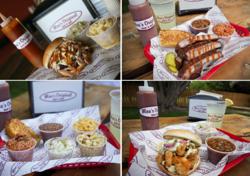 Breckenridge, Colorado (PRWEB) September 06, 2012
Moe's Original Bar B Que is pleased to expand its prominent BBQ operation as the 21st fast casual restaurant is set to open at 110 South Ridge Street in Breckenridge, Colorado in mid-September. Located in the ski town's historic district, partners Dexter Meadows, Eli Gerstein and John Rediker's Southern soul food revival will be housed in a log cabin that was built in the early days of Breckenridge and is on the national historic registry. The restaurant has undergone substantial renovations to create an inviting interior while maintaining the rustic charm of a building that has long been popular with locals.
With an interior seating for 48, the new Breckenridge location features a family-style table and other seating in the main dining room as well as spots in two other rooms with high top tables and a small bar area in the back of the restaurant. With high definition televisions strategically placed in both the dining and bar areas, guests can enjoy their favorite sports while feasting on Moe's original style of BBQ and sipping on cold beer or whisky.
Additionally, the customers will enjoy the enormous patio covered by a large shade tree that overlooks the town and offers views of the entire ski area and the surrounding mountains in the Tenmile Range.
"After looking for awhile for the perfect place in Summit County to open our restaurant, we believe we have found it," stated partner Dexter Meadows. "As Breckenridge is a fantastic town with a mix of locals, families, outdoor enthusiasts, and tourists, we know they will enjoy the relaxed atmosphere and Southern hospitality of our bar-b-que joint."
Founded in Vail in 2001, Moe's Original Bar B Que features award-winning Alabama-style pulled pork, ribs, wings, turkey and chicken smoked over hardwood served with two unique sauces as well as southern favorites such as fried catfish and shrimp sandwiches. Opening for lunch and dinner from 11am-10pm daily, the new restaurant will also offer six traditional special sides and desserts made fresh daily. Large party takeout orders and full service catering for events throughout Summit County and beyond will be available too.
For interviews, photos, press kit, menus or a complimentary media tasting, please contact Lorrie Dixson of Eskimo Advertising at lorrie(at)eskimoadvertising(dot)com. For additional information about Moe's Original Bar B Que, visit http://www.moesoriginalbbq.com.