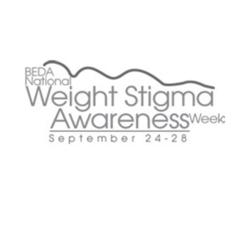 Severna Park, MD (PRWEB) September 06, 2012
The Binge Eating Disorder Association (BEDA) announced today that its second annual Weight Stigma Awareness Week will be September 24-28, 2012. BEDA's goal for the week-long event is to bring awareness to a common, entrenched social injustice that often results in serious physical and mental health consequences for those affected.
"Whether it is children being teased and bullied in school because of their weight, adults being discriminated against in the work place, patients being humiliating patients in a physician's office, or individuals being shamed at home by a family member, weight stigma insidiously affects the mental and physical well-being of people of size," says Chevese Turner, CEO of the Binge Eating Disorder Association. "So we want to raise awareness of weight stigma and how focusing on losing weight and valuing smaller size can, in fact, have the exact opposite effect on those who are overweight or obese—and especially those who have or are predisposed to eating disorders."
As the "war on obesity" rages on and the $60 billion weight loss industry continues to grow, paradoxically, eating disorders are also rapidly increasing. Afflicting more individuals than breast cancer, eating disorders have the highest rate of mortality of all mental illnesses. They are complex disorders triggered by environmental factors, and studies have shown weight stigma is one of the major triggers. Several studies conducted by The Rudd Center for Food Policy & Obesity at Yale University have found that more frequent exposure to stigma was related to more attempts to cope using maladaptive eating practices and higher BMI.
"Weight stigmatization is widespread in our society and affects individuals in multiple domains of life, often on a daily basis," says Rebecca M. Puhl, Ph.D., Director of Research and Weight Stigma Initiatives at the Rudd Center for Food Policy & Obesity at Yale University. "We know from decades of research that children and adults are targets of weight stigmatization in educational institutions, employment settings, health care facilities, the media, and even from family members and friends. This has a devastating effect on people's quality of life, and leads to numerous consequences for emotional and physical health. Weight stigmatization is both a social injustice and a public health issue. We need to increase public awareness and societal efforts to address this problem. Otherwise, it will continue to create disparities, discrimination, and barriers to effective prevention and treatment for individuals affected by obesity."
"This well-intentioned focus on weight without considering the resulting negative effects of increases in bullying, 'fat talk,' and eating disorders, is putting the blame on the individual when both obesity and eating disorders are complex issues that have no single cause or treatment strategy," says Laura Discipio, LCSW, executive director of National Association of Anorexia Nervosa and Associated Disorders (ANAD).
BEDA encourages participation in several activities during Weight Stigma Awareness Week to raise awareness and initiate change. Individuals can blog about their experiences with weight stigma and offer positive affirmations at http://www.weightstigmaawareness.com/. BEDA invites participation on Twitter throughout the week using the hash tag #weightstigma!. For more information about BEDA's Weight Stigma Awareness Week, visit http://www.bedaonline.com/WSAW/index.html.
For more information about The Yale Rudd Center for Food Policy & Obesity, visit http://www.yaleruddcenter.org/.
Binge Eating Disorder Association (BEDA) was founded to help those who have binge eating disorder, their friends and family, and those who treat the disorder. BEDA provides individuals who suffer from binge eating disorder with the recognition and resources they deserve to begin a safe journey toward a healthy recovery. BEDA also serves as a resource for treatment providers to prevent, detect, diagnose, and treat the disorder. By establishing strong connections among members and sister organizations, BEDA's goal is to give everyone access to the tools they need to live with, treat, and, ultimately, prevent the disorder. For more information, visit http://www.bedaonline.com.