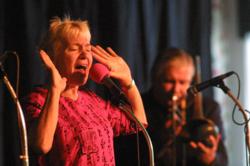 This four-day session will include ensemble workshops, coaching, jam sessions and performance opportunities.
Chautauqua, New York (PRWEB) September 06, 2012
In the days leading up to Jazz at Chautauqua 2012, the Athenaeum Hotel will host the first-ever Traditional Jazz Workshop. This four-day session will include ensemble workshops, coaching, jam sessions and performance opportunities. These master classes are open to the public and will run September 16 - 20, 2012. Visit http://www.JazzatCHQ.com for information and registration.
Trombonist Dan Barrett will lead the Jazz Workshop as the music director. Barrett has an extensive jazz background, having recorded with jazz greats such as Buck Clayton and Benny Goodman. He has played at Carnegie Hall four times over his career, twice as part of tributes to Louis Armstrong. Jazz vocalist Rebecca Kilgore joins Barrett as a workshop faculty member. Kilgore is one of America's leading song stylists. In 2010, she was inducted to the Oregon Music Hall of Fame and to the Jazz Society of Oregon's Hall of Fame. She has performed at Carnegie Hall with Michael Feinstein and has been invited to perform at New York's Mabel Mercer Cabaret Convention both at Town Hall and the Lincoln Center. Leading the piano portions of the workshop will be award-winning jazz pianist Rossano Sportiello, who received the Ascona Jazz Award in 2009 in recognition of his expertise and mastery of jazz piano. He has performed at numerous venues such as the Ascona Music Festival in Switzerland, the 92nd Street Y, Town Hall and the United Nations in New York City. Scott Robinson, Duke Heitger, Howard Alden, Kerry Lewis and Ricki Malichi complete the Jazz Workshop faculty.
Following the workshop, guests can enjoy the jazz party. Jazz at Chautauqua is in its 15th year. Formerly presented by the Allegheny Jazz Society, Jazz at Chautauqua is proud to continue the tradition now produced by the Athenaeum Hotel under the sponsorship of Chautauqua Institution. From September 20 to 23, the best traditional jazz musicians from all over the United States will play more than 24 hours of jazz standards and music from the American Songbook. Guests will dine in style while jazz musicians including Barrett, Kilgore, Alden and Marty Gross, and classic jazz bands such as the Faux Frenchman, play exciting music sets.
The Athenaeum sits grandly on a tree-shaded hill overlooking picturesque Chautauqua Lake on the grounds of the world-renowned Chautauqua Institution. This Victorian treasure, now listed on the National Historic Register, has been serving guests in style since 1881.
To reserve space at the Traditional Jazz Workshop or Jazz Party, contact the Athenaeum Hotel at 1.800.821.1881. Visit the official website at http://www.JazzatCHQ.com. The Athenaeum Hotel and Chautauqua Institution are located in Chautauqua County, New York, a destination for vacation and lifelong learning.