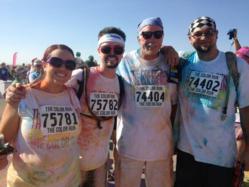 Colorado Springs, CO (PRWEB) September 09, 2012
It's the Happiest 5K on the Planet and it came to the Pikes Peak International Raceway to inspire, engage, and encourage victims of the Waldo Canyon Fire. On Saturday, August 10th, Peak Basement Systems' own Director of Marketing and Business Development, Cassi Sherman ran in the Color Run. It was more than a timed race, or just another 5k. Participants were sprayed, doused, and powdered with a nontoxic, neon color at each kilometer along the way.
To add to the fun and excitement, runners are encouraged to form teams, wear colorful costumes, and have a fabulously good time around town afterward.
Cassi's team was founded and lead by her sister, Kelly Schabinger. They formed Team "Shhh!" with Cassi and her husband, Aaron, Kelly and her husband, Chris, and their father, Dan. To add to the excitement of the event, Cassi was 17 weeks pregnant and this was her first 5K!
The Color Run raised money to benefit the victims of the Waldo Canyon Fire, which destroyed over 300 homes, and left countless others in desperate need of repair and restoration. Cassi and Peak Basement Systems have been assisting homeowners with education and resources on foundation repair plans available to them after the fire.
Cassi said, "It really was the Happiest 5K on the Planet! No one cared what their time was--we were all just out here to support our friends and neighbors who were affected by the fire. It was great to see the community come together to support such a worthy cause! We're definitely in this for life--bring on the next Color Run!"