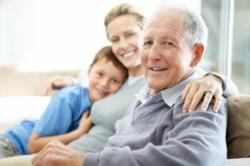 Art brings people of all ages together in many ways; through music, singing, writing, painting, photography, theater or dance.
Weymouth, MA (PRWEB) September 07, 2012
National Assisted Living Week®, September 9 to 15, is being celebrated throughout the United States, including at all five Welch Healthcare & Retirement Group assisted living communities on the Massachusetts South Shore.
Allerton House Assisted Living Communities offer a vibrant alternative for housing and care to seniors who may be living alone or who no longer want the responsibilities or hassles associated with home ownership. In Massachusetts, in particular, recent news reports on housing sales offer an incentive for individuals and families who were considering assisted living but were waiting for a surge in the market before placing their single-family homes for sale. There was a 27% increase in housing sales in July, compared to the same time period last year, according to the Warren Group of South Boston.
The week-long national assisted living program of events is designed to celebrate the lives of Allerton House residents and to bring together residents, families, employees, volunteers and the surrounding community. The theme of the national event is "Art for the Ages." A sampling of Allerton House Events during the week can be found at: http://www.assistedlivingmablog.com
Art brings people together in many ways, including through music, singing, writing, painting, photography, floral arranging, theatrical performances or movement and dance. The latest edition (Fall/Winter 2012) of the Allerton House Impressions Assisted Living Newsletter features residents of the five South Shore Allerton Houses in Duxbury, Hingham, Marshfield, Quincy and Weymouth – many of whom discuss their artistic passions. A copy of the latest issue can be downloaded at the Welch Healthcare & Retirement Group Website at: http://www.welchhrg.com/allertonhouse
National Assisted Living Week® is an annual celebration sponsored by the National Center for Assisted Living, Washington, D.C. and the Massachusetts Assisted Living Facilities Association (Mass ALFA). For more information on National Assisted Living Week®, visit http://www.nalw.org
Welch Healthcare & Retirement Group, located in Norwell, Massachusetts is a leading senior housing and healthcare services company. For more than 60 years, the family-owned company has been providing a range of care and housing options to seniors and their families, including short-term rehabilitation and long-term care, Alzheimer's and memory care, independent and assisted living, assisted living-memory care and adult day health services. For more information visit the web at: http://www.welchhrg.com