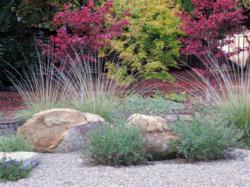 There is never a dull moment in the fall landscape, says 2012 APLD Designer of the Year, Brandon Jones.
(PRWEB) September 13, 2012
The kids are back at school, football games have kicked off and in some parts of the country leaves are falling. Even with brisk temperatures on their way, anyone can create a beautiful fall landscape by giving plants that put on a show in the fall center stage in the garden.
1. Consider Your Space
"There is never a dull moment in the fall landscape," says 2012 Association of Professional Landscape Designers (APLD) Designer of the Year, Brandon Jones. "Although we may lose some of the plant material framework in the garden during the autumn months, we gain fall foliage color, sculptural shapes of the deciduous trees and shrubs, and the architectural details become the focal point," states Jones. Consider what shapes and colors currently exist in your garden.
2. Do Your Homework
Visit your local garden center and make a list of your favorite plants and color combinations. The colors and combinations of plants give inspiration and highlight what is available.
For colorful berries, try beautyberry (Callicarpa) and winterberry (Ilex verticillata) to light up the landscape with bright berries. For bright foliage that turns maroon, scarlet, orange, or yellow, try blueberry (Vaccinium corymbosu, sweetspire (Itea virginica) and oakleaf hydrangea (Hydrangea quercifolia).
In the garden, bougainvillea is a great choice for those with allergies. The plants are beautiful and produce very little pollen. Plus, double flower varieties have no pollen at all. Unlike typical bougainvillea, the eight new varieties of new Bambino and Babybino Bougainvillea from Hines Growers give striking color and variegated foliage well into fall.
3. Plant Trees and Shrubs Now
Plant now to give plants plenty of time to establish roots before summer. "I recommend planting in the fall because both you and your plants can beat the heat," says Susan Olinger, president of the Association of Professional Landscape Designers.
"Many of the trees native to the southeast, like sourwood, black gum and black tupelo, are striking," says Olinger. "My favorite native shrubs with outstanding fall color include Virginia sweetspire, oakleaf hydrangea and fothergilla."
4. Try Something New
Jones, a designer with Glen Gate in Wilton, Connecticut, reflects on fall landscapes with a unique perspective. "Interest can be created by what you don't do rather than what you do, so think about implementing a low-maintenance plan for garden care: leave seed heads and stems on the plants to create instant ornamental appeal," says Jones.
He recommends sedum, echinacea, aster, ornamental grasses – and the more the better, for their textural contrasts and subtle hues as well as to feed the birds and remaining insects.
5. Avoid Common Mistakes
Avoid common mistakes that can work against your hard work in the garden. "Nothing drives me crazier than volcano mulching – mounds of mulch around tree trunks. Volcano mulching murders trees," says Olinger. "Mulch pushed up against a tree trunk ensures that a moist environment will ensue, thus providing the perfect environment for diseases and pests. Instead, create a saucer with the mulch to trap water and give the tree some breathing room."
Having a beautiful fall landscape doesn't have to mean missing the football games and back-breaking work for you. With the help of a professional landscape designer you can create a plan that will work for your landscape and you. Finding a designer is easy: visit http://www.apld.org.