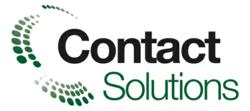 Reston, VA (PRWEB) September 06, 2012
Contact Solutions, a leading provider of cloud-based customer self-service solutions, today announced that it was recognized in an annual report examining the contact center market from leading analyst firm Frost & Sullivan. Contact Solutions enables truly personalized customer self-service solutions for the call centers supporting companies across a variety of industries. With a focus on continuous improvement, Contact Solutions guarantees clients that its cloud-based Interactive Voice Response (IVR) offerings will both improve the customer experience and lower operating costs.
The Frost & Sullivan report published last month reviews the state of the 2011 North American hosted contact center market. Segments covered include hosted IVR, hosted automatic call distributor (ACD), hosted chat, hosted outbound customer contact and hosted agent performance optimization (APO) applications.
An in-depth analysis of the vendor landscape revealed Contact Solutions' growing leadership position and expanding market share relative to its competition:
o Contact Solutions grew nearly twice as fast as the contact center market in 2011
o Contact Solutions is firmly established as one of the top 5 competitors in the hosted IVR market, and it leapfrogged another large competitor last year
o Contact Solutions gained more points of market share in 2011 than any of the top 20 vendors, and more than the top four competitors combined
"Markets reward companies that solve problems and provide excellent value and this report shows that Contact Solutions is delivering on both fronts," said Paul Logan, Contact Solutions President and CEO. "Clients are migrating to Contact Solutions for the innovative self-service solutions that save money and improve the customer experience, and our roadmap for new offerings will provide clients even more value in 2012 and beyond."
For more information on Contact Solutions, please visit us at http://www.contactsolutions.com.
###
About Contact Solutions
Contact Solutions invents real customer service. Our patented technology, optimized solutions and culture of continuous improvement deliver a more personalized customer experience. Guaranteed.
Our Continuous Improvement Methodology™ has improved the customer experience for every client — with an average CX rating increase of 27.4% — while lowering costs. This unique model quantifies the customer experience, enabling our clients to continuously improve performance and achieve ROI, year after year. Contact Solutions is one of the top five largest hosted IVR providers in North America and the recipient of the Frost & Sullivan Product Differentiation Award. For more, visit http://www.contactsolutions.com