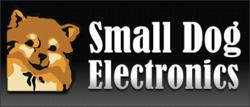 We believe that we can play a major role in the revitalization of downtown Rutland with renewable energy technologies while promoting energy conservation.
Rutland, VT (PRWEB) September 06, 2012
Small Dog Electronics is pleased to announce plans for a new retail location in Rutland, Vermont. The new Small Dog retail store will be located in downtown Rutland on West Street, next to the site of the old Aubuchon Hardware store.
Small Dog signed a lease for the building on August 28 and renovations to the property began on September 1st. The store's grand opening is tentatively scheduled for April 1st coinciding with the 37th birthday of Apple Inc. Small Dog Electronics is New England's largest Apple Specialist and one of the top Apple resellers in the United States.
The company's decision to invest in a significant new facility in downtown Rutland was based on analysis of the retail marketplace in Rutland County, and influenced by relationships with Green Mountain Power (GMP), the desire to connect to GMP's planned Energy Innovation Center, and promotion of downtown by senior GMP leaders. Officials at GMP, the Rutland Downtown Partnership and MKF Properties, which owns the site, collaborated to draw the company to downtown.
"Through collaboration with Green Mountain Power and the company's Energy Innovation Center, we believe that we can play a major role in the revitalization of downtown Rutland with renewable energy technologies while promoting energy conservation. We're excited to bring our business to this dynamic city, which we believe is teeming with untapped potential," says Don Mayer, CEO and Top Dog of Small Dog Electronics. "I want to thank everyone who made this possible and who has made us feel welcome and at home in Rutland including Mayor Louras and his administration, Mary Powell of Green Mountain Power, and the people of Rutland."
Rutland had been on Small Dog's short list of prospective retail locations for many months, but the success of the company's eWaste Recycling Event during the summer combined with the community support and enthusiasm that the eWaste event received helped push Rutland to the top of the list.
"Small Dog Electronics is among the most-respected retailers in Vermont, with a sterling reputation for customer service, protecting Vermont resources and doing what's right for the community at large," Green Mountain Power President and CEO Mary Powell said. "I am thrilled that Small Dog will be the first of what we hope will be many additions to downtown Rutland, and I am confident that it will have an immediate impact on the look and feel of downtown."
Small Dog Electronics estimates that the new retail store, which will bring the latest in Apple technology to a new part of its home state, will add between 5 and 10 full time jobs at opening. Small Dog currently has three retail stores located in Waitsfield, Vermont, South Burlington, Vermont, and Manchester, New Hampshire.
###
About Small Dog Electronics
Small Dog Electronics, New England's top Apple Specialist and reseller and a leading Apple Specialist in the US, was founded in 1995 by the father-and-son team of Don and Hapy Mayer. Small Dog is a socially and environmentally responsible company and employer. For more information about Small Dog Electronics and its product line of Apple computers, peripherals, iPods, software and printers, visit their website at http://www.smalldog.com.