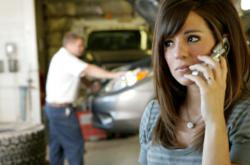 "After years of standard pricing, we are finding that today's consumer ... prefers being able to customize their options."
Charlotte, NC (PRWEB) September 07, 2012
Warranty Direct, a leading online provider of extended service contracts (warranties) for cars, trucks and vans, has announced a new pricing model effective Sept. 6 aimed at better serving varying customer needs.
"After years of standard pricing, we are finding that today's consumer does not just want 'one size fits all,' but prefers being able to customize their options according what is best for them and their budget," explained Tara Williams, executive vice president of Warranty Direct in Charlotte, N.C.
"So in response to customers' request, we have reprogrammed our website, http://www.warrantydirect.com, to gather each customer's preferences, and generate several options in order to give a personalized vehicle service contract quote. This more personal touch will allow us to answer consumers' questions more thoroughly and help them make a more informed and satisfying choice."
Meanwhile the company has also reclassified a number of vehicle types to a lower rate level overall. "While other companies are raising rates, Warranty Direct is finding new ways to make our plans more affordable - a better auto protection plan, now at a better price," Williams said. These include popular truck brands such as Chevy Silverado, Dodge Ram, and Ford F Series.
A discount of up to 10% is being offered beginning Sept. 6 on vehicles with lower frequency of repairs, including Toyota Camry, Corolla and Matrix; Honda Accord and Civic; Ford Fusion; Nissan Altima; and Chevy Silverado and Equinox. Prices have increased for Chevy Malibu and Impala cars due to greater frequency of repairs.
For more than 30 years, Warranty Direct has been part of one of the largest and most established vehicle service contract companies in North America. Today Warranty Direct operates primarily on the Internet, providing full transparency for the consumer so they can be informed of all options, prices and contracts prior to purchase. The company never engages in unsolicited phone calls (telemarketing). Warranty Direct is one of the few auto warranty companies rated A+ by the Better Business Bureau.