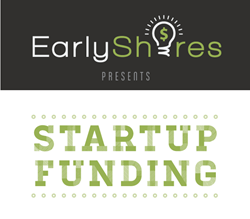 Bringing together entrepreneurs and investors into the new era of Equity Crowdfunding.
(PRWEB) September 06, 2012
EarlyShares (http://www.earlyshares.com), an Equity Based Crowdfunding platform with a mission to connect investors and entrepreneurs in a safe and secure way, brings educational opportunities to Seattle beginning with its level gold sponsorship of Seattle's Startup Weekend on September 14 – 16 in the Playhouse/Intiman Theatre at Seattle Center, 201 Mercer St; followed by a session of its 24/24 Nationwide Crowdfunding Educational Roadshow on Monday, September 17, at the Exchange Building, 821 2nd Ave, 8 FL, at 6:30 p.m.
EarlyShares, an innovative start-up itself, is partnering with SURF Incubator, Inc., a resource network for entrepreneurs eager to transform their ideas and startups into successful businesses. EarlyShares free Roadshow event provides investors and business owners' vital and up-to-date information related to Equity Based Crowdfunding, a new method of investing in start-ups that pools from a large and diverse group of investors. Food and beverages will be served.
Founded in 2011, EarlyShares launched its national roadshow earlier this year, visiting 24 cities in 24 weeks, to educate local business owners, investors, entrepreneurs and local media on how Equity Based Crowdfunding can benefit their community. The September 17th event is free and open to everyone looking to fund a startup and/or invest in a new or growing business. EarlyShares' CEO and an Equity Based Crowdfunding pioneer, Maurice Lopes, will present and answer questions on how this brand new type of funding will soon build businesses and grow investment portfolios. "Crowdfunding is a hot topic at the moment and the public is thirsty for knowledge. Attending this Roadshow will allow give you the tools and a head start on how to raise capital with this new method of investing," says Maurice.
Equity Based Crowdfunding is a newly created type of investing whereby groups of people make investments online so that new and existing businesses can grow and prosper. Until recently, general crowdfunding has been used to donate money for artistic and philanthropic projects and applications. Equity Based crowdfunding uses the power of the crowd and the Web to provide capital to startup businesses in return for an investor stake. This way the new investor class, meaning every one of us, will have a stake in what they invest in! Who knows? You could be a shareholder in the next Instagram for as little as $100.
Equity Based Crowdfunding is the most talked-about part of the April 2012 Congressional JOBS Act (http://www.govtrack.us/congress/bills/112/hr3606). Regulations under this new legislation will be finalized in early 2013. Equity Based Crowdfunding eases the regulatory burden on startups and small companies seeking to raise capital and will swiftly increase economic growth and job creation. Prior to the JOBS Act, only accredited investors could invest in start-ups; it was a "closed club". Today, through portals like EarlyShares.com, there is no one in America who can't get into the action with as little as $100.
For more information on Equity Based Crowdfunding go to EarlyShares.com
EarlyShares 24/24 Crowdfunding Event – Seattle, WA
Monday, Sept. 17th at 6:30 p.m.;
SURF Incubator, Exchange Building
821 2nd Ave, 8th FL, Seattle, WA 98104
See details at: http://crowdfundingseattle-PR.eventbrite.com/
Startup Weekend 2012 – Gold Sponsor
Friday, Sept 14 – Sunday, Sept 16, 2012
Playhouse/ Intiman Theatre at Seattle Center
201 Mercer St, Seattle, WA 98109
See the details at: http://www.seattle.startupweekend.org