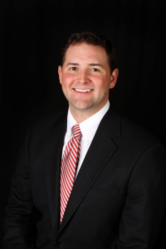 In the two years William has been working with Premier Parking, he has helped our company increase profitability tremendously.
Nashville, Tenn. (PRWEB) September 07, 2012
The Nashville Business Journal and a panel of judges named William Clay, chief financial officer for Nashville-based parking management company, Premier Parking of Tennessee, as a finalist in their annual NBJ's 2012 CFO Awards. Clay was chosen as one of six finalists in the category of Small Business CFO. The winner of his group and five other categories will be revealed October 15 during the Awards Dinner at the Schermerhorn Symphony Center. The NBJ will also profile the finalists and winners in a special section of the paper's October 19th edition.
Clay has been with Premier Parking of Tennessee since 2010 and has proven himself an asset to both his company and community through his hard work ethic and civic-minded responsibilities.
The nomination comes as no surprise to Premier Parking President Ryan Chapman. "In the two years William has been working with Premier Parking, he has helped our company increase profitability tremendously," said Ryan Chapman. "He's been a leader and visionary for not only Premier Parking, but the Nashville community overall. I can't think of anyone more deserving of this recognition."
Clay has quickly gained a reputation for his talents and volunteer efforts in the last few years, working with Special Olympics, the Phoenix Club and being honored recently by the Cystic Fibrosis Foundation (CFF) Middle Tennessee chapter which named him as one of Nashville's 30 under 30 members for 2012. The CFF honor recognizes influential business leaders under the age of 30 who impact their community through leadership and volunteer work.
"I am humbled by this recognition from the Nashville Business Journal and the judges who worked with the paper to select the finalists," said Clay. "I've been fortunate to work with an amazing group of leaders at Premier Parking who encourage their co-workers and are always looking for better ways to serve our customers. They all deserve recognition."
About Premier Parking
Founded in 2001, Premier Parking is the second largest provider of parking management services in Nashville and is quickly expanding to other markets, including Knoxville. The professional parking management company provides property owners and asset managers with efficient parking solutions. Premier Parking is an active member of their community and also supports sustainable energy by implementing of green technology in their facilities. Their proven parking services increase revenues and ensure customer satisfaction. Services include: surface parking lots, commercial garages, office buildings, special event parking and more. The pioneering company stays at the forefront of technology and has a renovated Internet home equipped with a parking lot finder, helping people locate convenient locations. For more information on new Premier Parking locations and services, contact them at 615-238-2250.