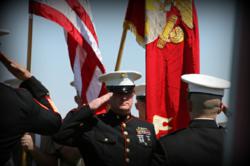 Lumberton, NC (PRWEB) September 18, 2012
With a dedication and passion towards producing high quality American-made products, Sentinel Fence & Rail continues to lead the way as one of the top U.S. manufacturers of aluminum fence and commercial railing. And continuing in this vein of excellence, Sentinel Fence and Rail is pleased to announce the addition of veteran Marine, Matthew M Scheib as VP of Sales this year.
About Matthew Scheib:
A recently retired Master Gunnery Sergeant of the Marines, Matthew Scheib served 25 years defending the United States as a Marine. Originally from Pennsylvania, Scheib studied Business Administration at Penn State University before enlisting in the U.S. Marines in 1988.
Though his initial enlistment was as an Aviation Operations Specialist, assigned to a Marine Attack squadron based out of Cherry point, NC, Scheib participated in numerous deployments throughout the U.S and abroad. One of these missions included a deployment in support of Operation Desert Shield and Desert Storm during the Gulf War. Scheib was then transferred to Marine Recruiting duty and served at various locations throughout the Northeast United States. Later, he was recognized as a Master Trainer and achieved the pinnacle rank of Master Gunnery Sergeant in just 19 years.
Prior to retiring, Scheib was chosen to be the Training Team Chief for the 1st Marine Corps District where he was responsible for leading and training 454 Marines, covering a territory that encompassed 11 states, which not only met- but exceeded recruiting goals during one of the most challenging periods in Marine Corps history.
On Joining the Sentinel Fence Team
When asked to reflect on his commitment to joining the Sentinel Fence & Rail team, Scheib had the following to say:
"...I joined the Sentinel team first and foremost because I trust the leadership and because Sentinel is committed to providing its customers with a superior American-made product. I am excited about the opportunity to blend the Marine Corps leadership and management techniques I mastered over the last 25 years into Sentinel's philosophy and mission statements. This, coupled with the owner's tenacious spirit, engineering prowess, and commitment to quality, will undoubtedly move Sentinel to the forefront of American manufacturers of Fence and Commercial Rail in the very near future."
4 Reasons to choose Sentinel Fence Products:
1. Sentinel only produces and carries products which are ALL American-made (http://www.sentinelmfg.com/).
2. Sentinel Integrity.
3. High Quality Standards
4. Commitment to Customer
With a commitment to customer care and a reputation for being one of the industry leaders in the United States for USA-Made, Quality, commercial railing and aluminum fences, Sentinel Owner Matt Feeko had the following to say about Scheib:
"...Sentinel Fence is one of the industry leaders in commercial railing and aluminum fences...and who better to represent this organization as an industry leader than someone who has served our great nation? We're extremely honored to have Master Gunny as part of the Sentinel team."