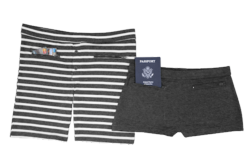 San Francsico, CA (PRWEB) September 06, 2012
With the Clever Travel Companion's 100 % pick pocket proof travel garments: underwear, t-shirts, tank tops and long johns with built in, secret pockets, travelers can now keep their valuables safe no matter where they go or what they do! No one but the person wearing the underwear will have a clue that the travelers valuables are safely hidden away – no pick pocket, no matter how smart, will get to them!
Being robbed of passport, credit cards or cash ruins a huge number of travelers trips each year, not to mention the discomfort and fear they feel after such an incident. Even more travelers accidentally misplace their belongings or forget them somewhere. Being stranded in a remote unfamiliar village, without passport or money is not fun, as anyone who this has happened to can testament to.
If a traveler needs to spend the night in a misty train station somewhere in Europe, wait for a delayed flight at JFK, take a nap on a ferry in the Greek Archipelago, sleep under the stars on a golden beach in Asia, share cramped accommodations of the beaten track in a hostel somewhere in Latin America or go bungee jumping off a ridiculously high bridge in New Zealand, he or she can rest assured knowing that the most important valuables are safe, hidden away and securely zipped in the the Clever Travel Companion's foolproof underwear with pockets. All the while, the savvy traveler keeps some cash at hand in a regular wallet or pocket for everyday small expenses.
To accommodate travelers' needs the Clever Travel Companion has invented these travel garments with secret pockets just the right size for any passport, travel documents, cash and credit cards. The product line includes underwear in the shape of a boy short for women and a boxer brief for men, both with two pockets with secure zippers on the front, T-shirts and tank tops with a with a secret pocket on the stomach, and for the winter season, Long Johns with pockets, perfect for cozying up in front of the fireplace after a day out on the slopes. All products come in multiple colors and sizes in either soft cotton or lightweight, breathable modal. The garments are all very comfortable and the wearer won't feel the pockets at all.
Shipping is free on all orders over USD 50 – and The Clever Travel Companion ships to anywhere in the world. The gear starts at USD 21.90. All products can be bought at http://www.clevertravelcompanion.com and on Amazon.com and Amazon.co.uk.
There really is no safer place to hide the most important valuables on a trip; underwear and clothing don't come off, at least not until the travelers decides they come off. There is no longer a need for bulky, uncomfortable money belts and ugly neck pouches; with the Clever Travel Companion's gear, the safety pockets are right there, integrated in the garments keeping the all important valuables 100% safe.