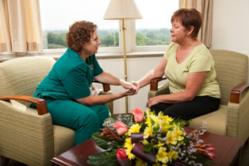 The development of this program is the result of NCH's commitment to integrate the full continuum of care services within a single and accessible system of care.
Arlington Heights, Ill. (PRWEB) September 05, 2012
Northwest Community Healthcare has partnered with Midwest Palliative & Hospice CareCenter to open a hospice care suite at Northwest Community Hospital (NCH) in Arlington Heights. The Midwest CareCenter Hospice Suite at NCH opened Sept. 5, providing specialized, comprehensive and supportive hospice care to seriously-ill patients and their families when it matters most, all while remaining close to home.
"We are pleased to partner with Midwest CareCenter on this important program. The Hospice Suite meets a real need in our community," said Karen Colby, MS, RN, NCH's vice president of Patient Care Services. "The development of this program is the result of NCH's commitment to integrate the full continuum of care services within a single and accessible system of care."
From the décor and the furnishings to visitor amenities, the seven-bed Hospice Suite has been designed with both the patient and family in mind, creating a "home away from home" setting. Each patient room includes a daybed for a guest to stay overnight, and the Suite features a kitchenette and family lounge so loved ones can remain nearby to relax and refresh. Visitors are welcome 24 hours a day and arrangements can be made for pets to visit, too.
While hospice care is traditionally provided where the patient lives, some patients are faced with more serious, acute symptoms that require a higher and more concentrated level of hospice care, which is now available in the inpatient setting at NCH. The Hospice Suite is staffed by Midwest CareCenter's interdisciplinary team of hospice specialists, comprised of specially trained physicians, nurses, certified nurse's aides, social workers, chaplains and bereavement counselors.
A full complement of psychological and spiritual support services will be available to patients and their families. These include grief support, music therapy and faith-based care services. Midwest CareCenter has the only two music-thanantologists in the Chicago area. A specially-designed meditation room in the Hospice Suite is available for those who seek space to reflect, or to find calm and solace.
"We appreciate the opportunity to partner with the team at Northwest Community Hospital to ensure these services are available to their patients and the entire community they serve," said Jamie O'Malley, MS, RN, Midwest CareCenter president and CEO.
This is the second venture for Northwest Community Healthcare and Midwest CareCenter. In 2010, the two organizations forged a partnership to provide palliative care services to patients with a range of life-altering illnesses and conditions, including cancer, heart disease and lung disease. This year, NCH's Palliative Care Program became the first in Illinois and among the first ten acute care hospitals in the nation to earn Advanced Certification for Palliative Care from The Joint Commission, the nation's oldest and largest standards-setting and accrediting body in healthcare.
About Northwest Community Healthcare (NCH)
Serving Chicago's northwest suburbs since 1959, NCH is a comprehensive, patient-centered system of care that serves more than 350,000 outpatients each year, as well as nearly 30,000 inpatients treated annually at the 496-bed acute care hospital in Arlington Heights. The award-winning hospital holds the prestigious Magnet designation for nursing excellence, is designated as a Primary Stroke Center and earned the Joint Commission's Gold Seal of Approval in 2011. NCH has four Immediate Care locations in the northwest suburbs and operates a FastCare Clinic in Palatine. NCH has a medical staff of more than 1,000 physicians, which includes the board-certified primary care doctors and specialists of the NCH Medical Group. For more information or to find a doctor on the NCH Medical staff, visit http://www.nch.org.
About Midwest Palliative & Hospice CareCenter
Midwest Palliative & Hospice CareCenter cares for 3,200 patients per year in 150 communities in North/Northwest Chicago, the North/Northwest Suburbs and Lake County. An interdisciplinary team comprised of Midwest CareCenter nurses, physicians, chaplains, social workers, music therapists and volunteers focus on the medical and psychosocial needs of patients and their loved ones. Its services include palliative care, hospice and grief support.