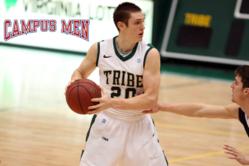 It can be the first step toward a career as a coach or personal trainer.
Columbus, Ohio (PRWEB) September 10, 2012
Former athletes in any varsity sport can turn their training know-how into cash at CampusMen.com.
By publishing a performance-improving "tip" using the site's online tool, writers can earn up to $14 per post with no limit to the number of posts submitted. Quinn McDowell, a recent college graduate, earned more than $150 in ten days posting basketball training tips.
Complete payment rates are available at CampusMen.com.
Authoring sports training tips not only helps other athletes, it can be a future asset in a variety of career fields. Unemployed or under-employed writers can earn money while increasing their online visibility in the job market.
"It can be the first step toward a career as a coach or personal trainer," said Vicky Phipps of CampusMen.com.
Writers will also build an online following from people and businesses who value their advice.
"Most of our response in the last two months has been from recent college graduates who are job hunting and using CampusMen.com to network," Phipps said.
Interested students and former students should first create a profile on CampusMen.com. Next, they choose from a list of available sports topics on the site. The publishing tool provides a series of sequential steps, enabling the writer to post a valuable training tip in eight minutes or less. It's easy to use.
Some writers who successfully post tips will be filmed for video presentations of their athletic advice. Those videos will appear on CampusMen.com next spring.
Since launched 60 days ago, CampusMen.com has worked with former athletes from The College of William and Mary, Capital University and The Ohio State University to publish training advice about football, baseball, basketball and cross-fit.
With the fall sports season at hand, Campus Men is especially interested in training tips for football, soccer, baseball, wrestlers and hockey players.