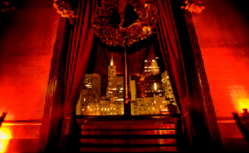 Entertaining during the holiday season is definitely back in style
San Francisco, CA (PRWEB) September 06, 2012
Holiday season is just around the corner and now is the time to make reservations for holiday gatherings with City Club of San Francisco. The City Club houses over 8,500 square feet of luxury ballrooms, dining rooms and banquet halls including the 1,500-square-foot, newly renovated 12th floor penthouse perfect for San Francisco corporate events and holiday parties. Planning holiday parties in San Francisco is seamless with City Club.
"Entertaining during the holiday season is definitely back in style," said Victoria Welch, City Club director. "We've seen a tremendous growth in our holiday business over the past couple seasons and with the addition of our newest space, we're on track to have our most successful year yet. We look forward to welcoming new groups to the Club!"
The halls of the City Club are stylishly decked during the holidays in traditionally festive holiday décor and the private events team can help tailor reserved event spaces to specialized tastes and needs. The City Club's culinary team produces custom menus, featuring local and seasonal ingredients. Reservations are available for both large and small parties.
The crown jewel of the luxurious City Club is the brand new, art deco adorned 12th floor penthouse, which includes two grand dining rooms, as well as two smaller private dining rooms – perfect for gatherings of all sizes.
The City Club of San Francisco has a variety of well appointed spaces perfect for weddings, social gatherings, professional San Francisco networking events, corporate events and meetings, and fundraisers for any occasion.
Members of the San Francisco City Club receive first-class service and discounts on certain elements included in event packages, such as on-site event planner assistance, in-house catering, floral arrangements, one-stop event management and vendor referrals. Non-members are able to throw events with the City Club as well, but are encouraged to join in order to benefit from the host of perks associated with membership.
For more information about event reservations and accommodations at the City Club of San Francisco, call (415) 362-2480.
About the City Club of San Francisco
The City Club of San Francisco is a private club and party venue that plays host to elegant San Francisco corporate events and personal gatherings. CCSF specializes in undeniably fabulous San Francisco wedding receptions, rehearsal dinners, bridal and baby showers, corporate events and meetings, networking events, awards dinners, seminars, workshops, retirement parties, anniversary parties, birthday parties, Bar/Bat Mitzvahs, alumni receptions, bereavement packages, social galas, holiday parties and fundraisers.
In addition to its own world-famous art and architecture, CCSF actively promotes the art and culture of San Francisco through collaboration with premier arts and cultural organizations to bring unique programs to the Club and its membership.
CCSF members include business, government and community leaders who are actively involved in San Francisco and Bay Area civic affairs. One of the ways that the Club actively supports these activities is by providing a public forum to civic and business leaders to discuss events affecting the City and its people.
For information about The City Club of San Francisco membership, please call Daniel "Danny" Phelan at (415) 362- 2480 X213.