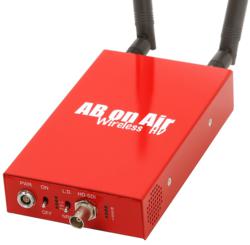 The New AB305 is available for orders now, and will be officially launched and presented at IBC 2012 exhibition in Amsterdam -
ABonAir booth # 3.A19e
Amsterdam, Netherlands (PRWEB) September 07, 2012
ABonAir, a leading provider of Professional Microwave Links, launches a new wireless HD system offered at a groundbreaking price with full feature set of a professional broadcasting system – the AB305™ Wireless Video System. – an important addition to ABonAir's product line.
AB305™ is aggressively priced for IBC 2012 at $5,999 for a complete kit (Transmitter, Receiver, Antennas, and Power Supply) to allow any cameraman, or video-assist and production team to afford wireless technology without compromising on picture quality, distance, or performance.
The AB305™ is small (16x9x3 cm) and lightweight (±300 gr), and was specifically designed to meet the new broadcast standards for portable-wireless transmissions in the field.
"The AB305™ system is the result of a long R&D cost-reduction project in which all the features offered in our high-end products have been maintained at a revolutionary low price. Our team's success allows us to offer feature-rich, high-performance system at $5,999", says Mr. Eran Igler, CEO of ABonAir. "The new AB305 supports HD and SD at all resolutions and frame rates, and enables any team to carry out field production tasks without the complexity of cable setting", adds Mr. Igler.
The system is based on OFDM Radio that ensures reliable transmission at long distances, at unlicensed frequencies (4.9GHz-5.875Ghz). An H.264 CODEC is utilized to provide high-quality video compression (±42 PSNR). With a simple to use plug-n-play setup, an HD-SDI interface, and low-delay mode, it enables wireless transmission of up to 250 meters with standard Omni-directional antennas (included in the kit), and up to 500 meters with directional antennas on the receiver side.
"We expect the new AB305™ product to impact a wide range of broadcasters with its competitive performance and low cost", adds On Sobol, director of worldwide sales at ABonAir.
The New AB305 is available for orders now, and will be officially launched and presented at IBC 2012 exhibition in Amsterdam.
ABonAir booth # 3.A19e