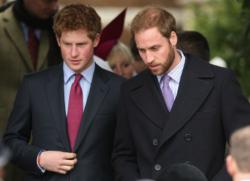 ... you can't grow up as royalty and expect to get away with dressing like a slob.
San Francisco, CA (PRWEB) September 09, 2012
Ties-Necktie, a well-known online tie retailer and fashion blog, has just taken a closer look at the fashion and style of Prince William and Prince Harry. From Harry's birthday suit, which he recently made famous in Las Vegas, to Williams dapper pastel polos, nothing was left by the wayside.
"Anyone who pays even the slightest bit of attention to celebrity gossip knows that both Prince Harry and his brother William are two of the most popular and talked-about men in Britain at the moment," says fashion blogger Hendrik Pohl. "Between the royal wedding and the attention placed on Prince Harry's exploits, the tabloids certainly have plenty of material to play with. Since many of our pieces focus on fashion in politics, we wanted to highlight the way these two men dress, as they each happen to have their own unique style; something that often gets overlooked given all the drama that surrounds these two brothers."
The piece is broken into two sections, each of which highlights Prince William and Prince Harry respectively. Prince William is celebrated for his ability to embrace the classic and sophisticated look that has almost become expected of British royalty. Harry, on the other hand, is highlighted for his penchant for adding a relaxed, casual feel to even his most formal ensembles.
"It's no secret that both of these men know how to dress well," says Pohl. "After all, you can't grow up as royalty and expect to get away with dressing like a slob. We think it's important to point out, though, that you can still dress in a casual manner without looking even remotely messy. Prince Harry is the perfect example of this, and deserves to be highlighted for it. William, on the other hand, is the epitome of British class and sophistication. They may be brothers, but they certainly don't dress in an identical manner."
In the past, Ties-Necktie.com has published a variety of article series' focusing on celebrity fashion, fashion in politics, as well as the best dressed US presidents of all time. This is, however, the first time that Prince William and Prince Harry have been highlighted in their very own piece.
"We've certainly dealt with politics and royalty in the past, but this is different," says Pohl. "This is the first time we've paid extra-close attention to the way William and Harry approach style and fashion."