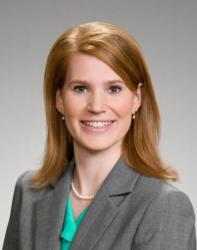 Boise, Idaho (PRWEB) September 06, 2012
Holland & Hart LLP is pleased to announce the addition of Anna Eberlin to the firm's Real Estate and Construction practice group.
Eberlin represents clients in state and federal court involving construction, real estate, lending, contract, and other disputes. She drafts construction contracts, real estate purchase and sale agreements, leases, easements, deeds, settlement agreements, operating agreements, and business formation documents.
She is a member of the Idaho State Bar, the Idaho Bar Association, The Advocate Editorial Advisory Board, the Advisory Council for the Assistance League of Boise, Commercial Real Estate Women (CREW), the National Association for Women in Construction and Idaho Women Lawyers.
Eberlin holds a J.D. from University of Idaho College of Law, and a B.A. from College of Idaho.
About Holland & Hart
Holland & Hart's Boise office has been part of the Idaho legal community for over 70 years. Our local experience combined with the resources of our regional office network enable us to handle a wide range of legal matters.
Our Boise office has grown to more than 40 attorneys working in a variety of legal disciplines, several of whom are nationally recognized as leaders in their fields by organizations such as The Best Lawyers in America, Super Lawyers, the Legal 500, and Chambers USA.
Supported by a network of more than 400 attorneys in 15 offices across the Mountain West and Washington, D.C., we blend our national reach with the approachability and responsiveness you expect from local counsel.
For more information, visit http://www.hollandhart.com.