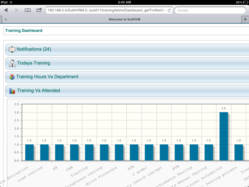 "SutiHVM Solution enables all your HR related tasks on mobile devices such as iPad, iPhone, Android and other Smartphones."- said N.D. Reddy, founder and CEO of SutiSoft, Inc. "
Los Altos, CA (PRWEB) September 06, 2012
SutiSoft Inc., a trusted provider of Software as a Service (SaaS) and enterprise solutions, today announces the release of additional mobile platform capabilities for its web-based human resource management solution (HVM).
SutiHVM enables managers to monitor the status of recruitment, time & attendance, performance and task assignments from their mobile device. The on-demand solution reduces the time spent on requisition management, employee attendance calculations while increasing the quality of the workforce by leveraging an effective recruitment process.
Performance reviews, training evaluations, task statuses and other approvals can be managed by accessing SutiHVM using an iPad™, iPhone™ or any Android™ Smartphone.
SutiHVM is available in multiple versions: Small Business and Corporate/Enterprise.
Visit http://www.sutihvm.com for more info. Pricing starts at $2.95 per month per user.
SutiSoft Inc. is a privately held company founded by N.D. Reddy, a successful Entrepreneur with over 30 years of experience in both the Hardware and Software industry as a Founder, and CEO. The Company's leading edge enterprise/SaaS application software products range from business productivity solutions such as Electronic Signature, Expense Management, Document Control Systems, Governance, Risk and Compliance, Security Solutions and others. The company's products are developed using Java, Flex, HTML 5, AJAX and other cutting-edge technologies which allow SutiSoft to retain its core values which are Simple, Scalable, Secured, and Seamless. Headquartered in Los Altos, California USA, SutiSoft has offices in Northern California, India, Germany and Japan.
Additional information is available at SutiSoft Website