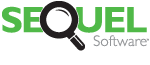 "The new version of SWI closely matches the functionality of a full-featured desktop application, without the installation or maintenance headaches"
Eden Prairie, MN (PRWEB) September 06, 2012
SEQUEL Software announced today a new version of its popular, browser-based interface for SEQUEL, the affordable business intelligence solution for Power SystemsTM servers running IBM i. Version 10 of SEQUEL Web Interface (SWI) makes it easier to securely access and present data from a web browser.
"The new version of SWI closely matches the functionality of a full-featured desktop application, without the installation or maintenance headaches," said Tom Huntington, Vice President of Technical Services at Help/Systems, parent company for SEQUEL Software.
"Users can log in and start working with SEQUEL objects—dashboards, views, reports, and tables—instantly."
While administrators value the reduced maintenance of SWI, business users appreciate the updated, friendly interface. The new Explorer window in version 10 makes it easy to search for, navigate, and work with data. Users can:

Display view results quickly
Download and save data in various file formats
Display and print reports and tables
Run scripts and drill-down applications by double-clicking them
Send data as email attachments
With numerous other UI enhancements, SWI version 10 will remind current customers of ViewPoint, SEQUEL's desktop application.
"Our customers love the modern, fresh look of ViewPoint," explained Huntington. "We wanted to bring those strengths to SEQUEL Web Interface."
SEQUEL Web Interface doesn't require its own server or a separate install. Configuration occurs automatically when SWI is installed on the Power Systems server.
For more information regarding this announcement, please contact Tom Huntington at +1 952-933-0609 or tom.huntington (at) helpsystems (dot) com.
To the Editor:
SEQUEL Software is a Help/Systems company. Help/Systems, LLC is the world's leader in software solutions for Power Systems™ servers running IBM i. For more information, visit our website at http://www.sequel-software.com, or call 952-933-0609.