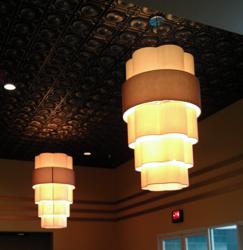 Here is a photo I took with my smart phone. Hope you can see how good the ceiling looks. - Claire Livingston
(PRWEB) September 06, 2012
DCT is supplying over 3,500 square feet of its 106 Whirligigs faux tin glue-up tiles in Antique Gold for the lobby. The faux tin tiles are Class A fire-rated, making them the ideal material for a public building.
The Dublin Theater was built in 1934, during the golden age of Art Deco movie houses. It is listed on the online registry of historic movie theaters at http://cinematreasures.org/theaters/21984 as well as http://placestogobuildingstosee.blogspot.com/2010/10/dublin-theatre-dublin-georgia.html.
The theater had fallen into disrepair in recent years. This restoration is intended not only to restore its former beauty but also to transform it into a performing arts theater.
The attached photo shows the 106 Whirligigs tiles being installed on ceiling of the lobby. Additional photos can be viewed on the Decorative Ceiling Tiles website.
The restoration will begin in the lobby, and the theater hopes to eventually extend the project to the remainder of the theater. The lobby is scheduled to be completed on September 7, just in time for the opening of the fall fine arts season. The following day, September 8, will see the 620-foot venue play host to the Atlanta Pops Orchestra.
Nicknamed "The Emerald City" for its connection to the Emerald Isle of Ireland, the city of Dublin, Georgia, is host not only to the largest annual St. Patrick's Day festival in the south, it is also home to the Dublin-Laurens County Museum, operated by the Laurens County Historical Society, located directly across the street from the theater.
The Dublin Theater is located at 314 Academy Avenue, Dublin, Georgia 31040. The telephone number is 478-277-5074.
With headquarters in Florida and distributors and installers throughout the United States and select overseas locations, Decorative Ceiling Tiles.com is the online leader in the sales of decorative ceiling tiles.
# # #
For more information or to schedule an interview, contact Milan Jara, President, Decorative Ceiling Tiles, at 754-367-8349 or 866-297-0380.