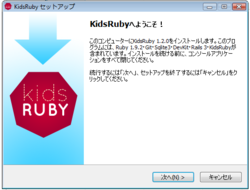 Programming is about expression and creativity. I'm happy to see KidsRuby in Spanish because it will allow more kids in countries such as mine to start manipulating computers before they even learn a second language
Los Angeles, CA (PRWEB) September 06, 2012
KidsRuby is free and open-source Ruby programming software built just for kids, and the latest version has gone international with Japanese, French, and Spanish translations, just in time as school is back in session.
The new KidsRuby release still offers a unique and fun way to learn programming, but now with full translations into Japanese, French, and Spanish, so even more kids all over the world can have the same learning experience that has English speaking children raving about Ruby.
"Programming really is fun, and helping the next generation learn about technology is incredibly important," says Ron Evans, the "Ringleader" of The Hybrid Group, a software company located in Los Angeles, CA, who are the original creators of KidsRuby. "Software is not limited by borders or languages, and neither is the joyfulness of children. Now thanks to the efforts of contributors all over the world, KidsRuby is ready for the global village."
KidsRuby is an open source project, and Ruby practitioners all over the world have joined together to introduce children into the future of software development. "My teenage son has shown interest in programming, but had a hard time getting started. I am a bad teacher." joked Yukihiro 'Matz' Matsumoto, the inventor of the Ruby programming language. "My (own) tools are too advanced and tailored for a UNIX hacker. KidsRuby (esp. Japanese version) will help him learn programming by himself. Awesome. I see (a) bright future."
KidsRuby has already conducted one-day free programming workshops for kids all over the United States by bringing in professional Ruby developers as teachers and mentors for local kids. Now free programming camps can take place across the world, without requiring kids to achieve full English literacy first. "Programming is about expression and creativity. I'm happy to see KidsRuby in Spanish because it will allow more kids in countries such as mine to start manipulating computers before they even learn a second language, " says César Salazar, Founder of Mexican.VC and Venture Partner at 500 Startups. "This is something that can truly level the playing field."
KidsRuby 1.2 is available now, and for free, on Windows, Macintosh, and Linux machines at http://www.kidsruby.com.
About The Hybrid Group:
At The Hybrid Group, we are passionate about making useful things with technology. Based in Los Angeles, our software developers & designers specialize in Ruby on Rails, JavaScript, Cloud Computing, Mobile Development, Application Design, and most importantly, helping you solve problems. Visit us at http://hybridgroup.com
We are also the creators of Kanbanpad (http://kanbanpad.com) the happiest project management tool on Earth, and Clutch (http://clutchapp.com) which helps you see all your project updates in one place from over 15 different project management and bug tracking systems.