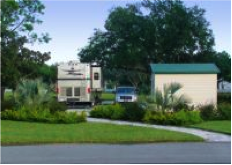 "It's beyond the time for the industry to move towards branding and segmentation to assist the consumer in making decisions. Best Parks in America is well on its way to becoming the go-to brand for quality RV parks and campgrounds," said Ed Mayer
McLean, VA (PRWEB) September 07, 2012
Best Parks in America is excited to announce the addition of four new affiliated RV resorts and campgrounds in four strategic locations in the US.
The new affiliates are Elite Resorts at Citrus Valley, Orlando, FL; Strawberry Park, Preston, CT; Far Horizons 49er Village in Plymouth, CA, and Far Horizons Tucson Village RV Resort in Tucson, AZ.
"Wow! Four parks in four corners of the US are terrific. Best Parks in America is thrilled to add a park in one of the nation's leading tourist towns, Orlando, FL. Adding first Best Park affiliates in Connecticut and northern California and a new park in Tucson is a giant step forward for the Best Parks network," said Best Parks President David Gorin. "We hope these new Best Parks will catch the attention of park owners in other key markets and that this is the vanguard of a wave of new network affiliates in key destination areas."
Elite Resorts at Citrus Valley was re-developed and is owned by Ed Mayer, the founder of the Elite Resorts brand of parks in Florida. Located just eight miles from the gates of Disney World, Mayer acquired the resort in 2008. It has been completely renovated with brand new facilities, pavered sites, and beautiful landscaping. The resort offers 305 large lots for both ownership and rental.
Strawberry Park, also managed by Elite Resorts Management, Inc, is the first Connecticut Best Parks Affiliate. A 160 acre campground in southeastern Connecticut, minutes from Mystic Seaport, Foxwoods and Mohegan Sun Casinos. Strawberry Park offers a spacious campsites and a variety of rental units. State of the art facilities include 3 large swimming pools, 2 whirlpool spas, Rec Center, arcade, Grill & Creamery and horseback trail riding.
"I've been in the park business for many years and it's beyond the time for the industry to move towards branding and segmentation to assist the consumer in making decisions. Best Parks in America is well on its way to becoming the go-to brand for quality RV parks and campgrounds," said Ed Mayer. "I look forward to helping grow this brand and making a statement that consumers can trust," he said.
Chuck Hays, owner of Best Parks' first northern California affiliate and Far Horizons Tucson Village in Tucson, AZ has been a leader in the park industry as past President of California ARVC and past Chairman of the National Association of RV Parks & Campgrounds. We're pleased to welcome Chuck Hays and both parks into the Best Parks family.
Far Horizons 49er Village RV Resort is located in the Sierra Foothills of Amador County, conveniently close to more than 35 award-winning wineries and Amador Flower Farm in the Shenandoah Valley. Amador County is the heart of California's historic gold era in the towns: Fiddletown, Plymouth, Dry Town, Amador City, Sutter Creek and Jackson.
Far Horizons Tucson Village is an RV community designed for discriminating vacationers age 55 and better. Tucson offers great outdoor recreation nearby for outdoor adventure, scenic attractions, outstanding golf, shopping, dining, arts and culture. The resort offers 514 sites and vacation cottage rentals.
Both the CA and AZ Far Horizon Resorts have excellent industry ratings and are the top percentile of privately-owned RV parks and resorts in the United States.
"I've been watching the growth and development of Best Parks in America and honestly, I don't know why it's taken me this long to bring my parks in to this brand. I really like the "on your own but not alone" concept of remaining independent but working together with other like-minded owners in building a brand that speaks to the consumer about quality and experience," said Hays.
Best Parks in America is the leading national network of premium-level outdoor hospitality properties representing the finest RV resorts and campgrounds in the US. Its mission is to organize and promote an exclusive group of independent outdoor resorts, including destination campgrounds, luxury RV parks, romantic cabins and expansive self-contained RV resorts. Established in 2003 by forward-thinking leaders in the outdoor hospitality industry, it started with 21 initial members. Today, the current affiliated Best Parks in America are independent and unique and all are committed to delivering rich, authentic experiences their guests have come to expect in their vacation experience. To be welcomed into the Best Parks family of outdoor destination resorts, each property must adhere to strict quality standards and be committed to offering the best in hospitality services.
For information on affiliation with Best Parks call Deb Kohls at 714-698-9509 or visit BestParks.net for park affiliation information.