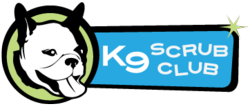 Not Your Average Neighborhood Dog Wash. Not Your Average Online Dog Store.
San Francisco, CA (PRWEB) September 07, 2012
Each week, K9 Scrub Club will be working with local rescues to feature adoptable dogs and cats in a blog designed to raise awareness of local bay area rescues and find a loving home for dogs and cats.
The featured rescue next week will be Loup Garou. This San Francisco rescue specializes in finding homes for black and dark colored dogs and cats. Often overlooked in shelters due to their color, these animals carry the stigma of having a poor temperament and don't typically photograph as well as lighter colored animals.
For more information about K9 Scrub Club and their work with rescues, visit k9scrubclub.com or stop by their self-serve dog wash and specialty store located in the Noe Valley neighborhood of San Francisco. You can view the weekly blog at 7x7.com/pets.