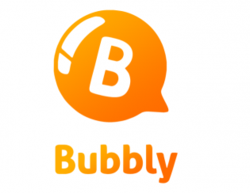 SINGAPORE (PRWEB) September 05, 2012
Bubbly, a leading voice blogging service with over 19 million users and hundreds of celebrities across the globe, today launched a major update of its app, allowing for a deeper voice experience. Users can now spice up their voice posts by applying cool filters like "Helium," "Echo Chamber," and "Synth." Users simply record their message on their iPhone, choose a filter to revamp the sound and vibe, and post to their account to share with friends, fans, and followers.
With the new Bubbly iPhone app available for download here: http://itunes.apple.com/us/app/bubbly-voice-blogging-social/id462545005?mt=8, users can personalize their voice posts and infuse a new set of artistic elements, expressing themselves in a fun way. There are twelve filters to start: Noise Reducer, Boost It, Synth, On Stage, Grab a Mic, Witch, Villain, Helium, Echo Chamber, Sci Fi, Slow Mo, and Hyper Speed. Unlike other social media sites, Bubbly lets users post updates using their voice -- allowing for real feeling and emotion to come through when listening to what others have to say. Bubbly version 2.0 augments this authentic feel with a playful and creative touch.
Bubbly 2.0 also announced several awesome new updates:

Single Sign-on with Facebook and Twitter: Get up and running on Bubbly in no time, while connecting with your other social networks
Timeline Integration: Bubbly posts can now show up on the Facebook timeline, allowing users to like, record, or listen to a post via Facebook
Multi-tasking: Users can now return to the main feed while their audio posts are being uploaded
Delete: Want a re-do? The ability to delete posts is another added bonus with the app
Localization in several new languages including Korean, Thai and Russian.
"With Bubbly now being used around the world, we wanted to add a touch of personalization that anyone can appreciate. Our new voice filters allow users to play with different variations of their posts and get creative, while retaining the authenticity of voice blogging," said Tom Clayton, CEO of Bubble Motion. "Bubbly voice filters give users more options for self-expression – and they can post them direct to their Twitter feed and Facebook wall."
The Bubbly 2.0 app is currently available for iPhone here: http://itunes.apple.com/us/app/bubbly-voice-blogging-social/id462545005?mt=8.
About Bubble Motion
Bubble Motion is pioneering social communication for mobile phones. Bubble Motion's Bubbly is a social messaging service where people share SMS and voice updates with friends, family, fans and followers. Bubbly is like 'Twitter with a voice' and brings social networking to mobile phones.