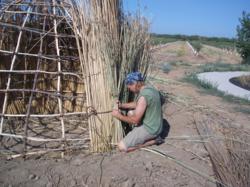 It is an archaeological experiment as far as documenting the original contemporary accounts and archaeological excavation and then putting this evidence to use and seeing if it works. So far it does
Chowchilla, CA (PRWEB) September 05, 2012
A new exhibit at the Fossil Discovery Center is nearing completion that will showcase what life was like in the valley many centuries ago.
Blake Bufford, director of the Fossil Discovery Center, has been constructing a Yokuts Indian home on the shores of the pond at the museum. Not only is the village constructed of the same materials the people of the time would have used, but he's using the same methods as well.
"To my knowledge no one has built one of these this authentically," said Bufford.
"It is an archaeological experiment as far as documenting the original contemporary accounts and archaeological excavation and then putting this evidence to use and seeing if it works. So far it does."
Various anthropology and archaeology professors at area universities have expressed an interested in the project, and are excited to see how the experiment will pan out.
"It is a good educational tool for kids," said Bufford.
The exhibit is the latest addition to the museum that features the fossilized remains of several species of animals from the Pleistocene era, all found adjacent to the museum. A 14-foot tall Colombian Mammoth skeleton greets visitors as they first enter the museum, and he is joined by skeletons of a saber-toothed cat, short-faced bear, dire wolf and other animals.
So far, more than 40,000 individual fossils have been found on site from more than 40 different species.
The Fossil Discovery Center is located at 19450 Ave. 21 ½. The museum is open Tuesday through Sunday from 9 am to 4 pm. Admission is $8 for adults, senior citizen 55 and older are $6, and students are $4 while children under $3 are free. Kids can take part in a mock fossil dig for an additional $4.
-END-