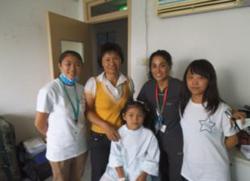 This was one of the most amazing experiences I've had in my career
San Francisco, CA (PRWEB) September 06, 2012
Last month, The Blende Dental Group welcomed back Registered Dental Assistant, Guadalupe "Lupe" Avila from a two-week volunteer mission in China. The Blende Dental Group has been a leader in special needs dentistry in San Francisco for over forty years. From participating in the Flying Samaritans Dental Program in Baja, California to volunteering in the Tenderloin District of San Francisco, Dr. Blende and his team have created a company culture of giving through their continuous efforts in treating patients all over the world.
Most recently, Dr. Blende joined a medical mission to Guatemala. Although his specialty lies in dentistry, Dr. Blende played a key role in delivering SUVs stuffed with medical supplies to locals in need. "Often times, you go down as a dentist hoping to do service and end up spending 80% of the time de-worming children and administering penicillin," Dr. Blende explained. By the end of his trip, the San Francisco sedation dentist and his team nearly doubled the survival rate of children in that area.
Similarly, another Blende Group Doctor, Dr. Caitlin Batchelor teamed up with the Carolina Honduras Health Foundation in 2011 for a joint medical and dental trip to the Foundation clinic in a remote village in Honduras. "I found my passion for volunteering after participation in a trip to remote Ladakh, India with the Himalayan Health Foundation while in dental school," Dr. Batchelor remembered. "Working with Dr. Blende gives me the ability to become a stronger advocate for special needs dentistry. Everyone deserves a beautiful smile."
Following Dr. Blende and Dr. Batchelor's tradition of giving, Avila of The Blende Dental Group, recently donated two weeks of her time to graciously assist children and adults who suffer from cleft palate in China.
Avila has been a registered dental assistant for over twenty-six years and has worked with The Blende Dental Group in San Francisco for three years. After expressing interest in contributing her services, Lupe was contacted by Dr. Colin Wong of Alliance for Smiles to embark on a life-changing mission to Zhang Zhou, China to donate her expertise to a special cause.
"This was one of the most amazing experiences I've had in my career," said Avila. "I am so appreciative to have been given the opportunity to give back in this way."
During her time in China, Avila and the Alliance for Smiles team performed over 110 surgeries and 150 dental procedures in two weeks' time. Each patient touched Lupe's heart, but one case stood out as especially meaningful.
"I sat with the mother of a cleft palate patient and comforted her, holding her hand and embracing her," said Avila. "We didn't speak the same language, but that didn't matter. As a mother and a grandmother, I know what it's like to worry about your child's well-being. The language barrier did not keep us from having that bond."
Since returning to the States, Avila has been actively involved in many service projects and looks forward to continuing in her path of charity. At the Blende Dental Group, their mission is to help change lives, one smile at a time, through dentistry. They do this through the causes they serve and through work across the Bay Area. Each day, they reach many who would not otherwise receive dental care because of their special needs. They are eager to learn more about the causes that move those in their community, especially when they are related to those with special needs. To share your passion with The Blende Dental Group's community, please post on their Facebook page at http://www.facebook.com/pages/Blende-Dental-Group-Home-of-the-House-Call-Dentists/170701412946737
For more information about The Blende Dental Group's ability to individualize treatment for their patients call (415) 563-4261 or toll free at 1-800-575-3375 during normal business hours, or call 1-877-HOUSE-07 (1-877-468-7307) for dental emergencies 7 days a week, 24 hours a day.
The office of San Francisco special needs dentist Dr. Blende is located at 390 Laurel Street in Presidio Heights. Visit http://www.blendedentalgroup.com/ to make an appointment and experience The Blende Dental Group's full range of services. If you are active on social media, feel free to stay in touch with their educational campaigns and events via Facebook.
About The Blende Dental Group
The Blende Dental Group is the Home of the House Call Dentists. Focusing on special needs dentistry in San Francisco, they serve both general patients and individuals with special needs, including and those with phobias or disabilities (behavioral, cognitive, medical or physical challenges). This medical-dental group has over 40 years combined experience. They are able to address a diverse range of patients by individualizing treatment, either Awake (in-office), Asleep (under general anesthesia at one of eight Bay Area hospitals where they are on staff), or At Home (in the patient's home anywhere within a 60-mile radius of San Francisco). The Blende Dental Group has earned its reputation as a national leader in the treatment of patients with special needs by safely and successfully completing thousands of complex cases. Their vision is to remove barriers to receiving dental care. Their mission is changing lives one smile at a time: Awake, Asleep, or At Home.
The Blende Dental Group, specializing in sedation dentistry in San Francisco has been featured in USA Today Weekend, the San Francisco Chronicle, Exceptional Parent, the Alzheimer's Association newsletter and Ability magazine, among other publications. They have also been featured on ABC 7 (KGO) News with Dr. Dean Edell, and on NBC (KNTV) San Francisco Bay Area News.