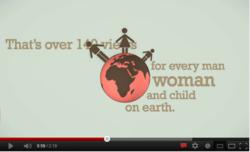 Video and YouTube are Revolutionizing how business does business. Your customers are empowered, and busy. Businesses that use video the right way will leap ahead of the competition.
New York, NY (PRWEB) September 06, 2012
4 Billion.
That's the latest number from YouTube and represents how many videos are watched every single day. And, those video views are coming from 800 million unique users around the globe.
Watch the Video Revolution Video Here
With those kinds of numbers, it's no wonder that 76% of online marketers plan to increase their use of video and YouTube. That's a lot of eyeballs…and a lot of potential customers eagerly searching through YouTube (the 2nd largest search engine) to find what they are looking for.
Imagine if a business could drive traffic to a website by creating the right kind of video filled with the benefits and information that customers want and need. That would be amazing, right? In fact, wouldn't it be revolutionary for an online business to create something that appeals to the perfect customer, instantly?
Is Video the Top Marketing Strategy?
If a business thinks video is just a passing fad, then it's time to pull their head out of the sand. Projections confirm that video is slated to be the top source of content used by all online marketing efforts by the year 2014.
Think about the impact of a revolution. When it occurs, entire countries, economies, families, and society as a whole are changed, right?
We are not talking about a violent revolution here. We are talking about a revolution in the way we do business. Video marketing and YouTube are changing how people get their information, how they make purchasing decisions, and how they connect with each other.
And, it's changing the way a business can do business.
Video puts a face and a personality to any business so that customers across the globe can recognize and "know" it as a real person and not just a company logo. If a business doesn't think this is important, just think for a moment of the revolution in communications from radio to television.
Video in Business will Replace Television as We Know It
Once upon a time, communities gathered around the radio to listen to their favorite programs. Without the benefit of a screen, they had to imagine and create their own mental pictures about the stories being told and information being relayed over the radio waves.
Then came television.
This revolutionized how people got their information. Suddenly, they could see and hear their beloved characters once locked inside that radio cabinet. And, to the delight of the marketers, people were limited to 3 channels and they had their undivided attention.
Today online business doesn't have the luxury of their customer's undivided attention. In fact, this is a blessing and a curse. On the one hand, a business can reach their customer on the radio, the TV, the computer, the laptop, the notebook, the phone, the tablet and so much more. This is good.
On the other hand, with so much digital information clamoring for attention, and so many devices to choose from, customers can get distracted…and they are also more empowered. Some say this is bad.
Today, customers have the ability to see what they want, when they want, and how they want.
No longer can any business afford to subscribe to a false sense of security believing that their customer will do exactly what they want them to, when they want them to. The customer has been empowered.
The Uprising of Small Online Business
Yes, this is revolutionary. And, for a smart online business using video marketing and YouTube the right way, this could be just the revolution needed to propel them past the big names and compete with all the major brands even when they have a small business, shoestring kind of budget.
A smart business, small, medium and large, can do in a minute what may take their competitors weeks and even months to do. Most people have probably watched a video in the last week; however, how many can say they have created a video to promote a business in the last week?
With any revolution a business can either watch it go by in awe, doing nothing and being left only with the scraps dropped by the competition. Or, it can pick up the tools needed to become a part of that revolution and empower the person, the business, and the destiny.
Every business must determine where they fall in the video revolution.
Businesses that are ready to learn exactly what's needed to empower their marketing during the Video Revolution can pick up this free report prepared by James Wedmore, Video Marketing Coach and Online Strategist. The YouTube Traffic Report will gives the tools needed to create videos that get noticed by the people that matter…customers.