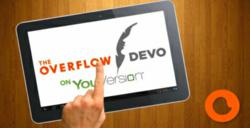 (PRWEB) September 07, 2012
TheOverflow.com is excited to be partnering with YouVersion, the Bible App to release 'The Overflow Devo'. The Overflow Devo is a free 7-day written and video devotional plan where Christian artists break down their songs in Biblical terms. This marks the largest rollout of video devotionals on the Bible App, which has been installed on more than 60 million mobile devices worldwide.
"We're humbled to have so many great partners, and YouVersion, along with the record labels help us deliver our valued users More Than a Download"," said Stephen Relph, Co-founder of TheOverflow.com.
Launching in beta mode earlier this month, TheOverflow.com is the first 100% digital Christian music store for North America. It provides users the chance to get their favorite songs, discover new artists, watch videos and engage deeper in the Word of God.
The first round of devotionals features Christian artists such as Lecrae, Tenth Avenue North, Newsboys, Hawk Nelson, for King & Country, and Dara Maclean sharing their inspiration and true Biblical meaning behind their hit songs. These videos will be available on both TheOverflow.com and YouVersion, and will be updated with new devotionals on a regular basis.
"We're excited to partner with The Overflow on their devotional plans with YouVersion. We believe this initiative provides a unique approach to reading the Bible and allows users to see more from their favorite artists in a unique and inspiring way." ~ Jeremy Holley, VP Warner Music Nashville / Word Entertainment.
Introduced in 2008 and with over 60 million downloads, YouVersion is the #1 rated Bible app and a completely free resource, offering hundreds of translations and more than 260 Bible reading plans.
"We are excited to offer The Overflow Devo as a new, relevant and media-rich way to help our YouVersion community make the Bible a part of our daily lives." said YouVersion creator and LifeChurch.tv Pastor, Innovation Leader Bobby Gruenewald.
About TheOverflow.com
TheOverflow.com is the first 100% digital Christian music store for North America, and is a space where anyone can come to receive the inspired Word of God through music, word or video in a way that causes them to be filled with the Spirit. It provides resources that encourage users to take that filling and overflow into their communities in a way that reflects the love and teachings of Jesus Christ.
About YouVersion and the Bible App
YouVersion and the Bible App were created by a team at LifeChurch.tv in Edmond, Oklahoma, to help increase access and engagement with the Bible. Featuring hundreds of versions in more than 100 languages, YouVersion was created to help people with busy, on-the-go lifestyles read the Bible at any time and in any place.
The Bible app can be downloaded for free from all major app stores and at http://www.youversion.com/download.