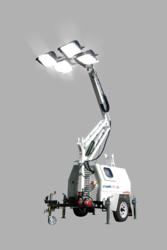 the challenge of getting more light to the mine's work area more safely, has been niggling away at us for a while
(PRWEB) September 07, 2012
Australian mining equipment specialist AllightPrimax arrives at MINExpo (Stand 28053) to launch an aggressive assault on the mobile lighting sector with its new CombiLite model.
Engineered and manufactured to meet Australia's tough mine efficiency and safety standards, the CombiLite features four quick change vibration-resistant 1500W metal halide lights, automatic start-up/shut down and spillage containment - all as standard.
Much of its success, though, is expected to stem its clever articulated mast design which incorporates hydraulic light tilt and 300 degree mast rotation as well as a unique high wall overhang facility which gets up to 40% more light to the work platform to boost night shift productivity.
From its global production facilities in Perth and Dubai and its North Carolina assembly and distribution hub, AllightPrimax has helped shape the world's mine lighting and de-watering market for more than 20 years.
Head of worldwide sales for AllightPrimax, Paul Sowerby said: "We tell ourselves that this business is all about analysing the customer's needs and devising a solution to meet them, and the challenge of getting more light to the mine's work area more safely, has been niggling away at us for a while.
"Adding such clever benefits as high wall overhang and 100% spill containment to a range of mine spec Allight lighting towers from which we already sell over 3,000 units a year worldwide, means all the added productivity and safety achievements are wrapped up in best-practice technology. It's a hell of a cocktail, and is really going to raise the bar."
Also on the AllightPrimax MINExpo stand will be the Sykes XH200 and MH300i pump-ends as well as the HH160i complete de-watering pump. Part of the HIMAX self-priming pump range, the HH160i was developed to operate in harsh mining, quarry and rental environments which demand both high water flow and pressure requirements.
The switch from standard cast iron components to 316 stainless steel front and rear wear plates and impeller - plus a clever new bearing bracket set-up featuring damping properties, dramatically improves pumping efficiency, as Sykes De-Watering Product Manager Chris O'Brien explained.
"Our analysis of exhaustive field trials told us that the standard cast iron impeller and plates corroded before they wore out, and so left room for improvement in terms of longevity and performance in harsh Australian mining conditions - widely believed to be among the most abrasive in the world," he said.
"As well as the switch to 316 stainless steel as standard and the introduction of the new bearing bracket, we've selected a drive coupling to cover power requirements and resonance conditions (ie torsional vibration) to suit any pump and engine combination. This also makes the pump unusually robust as well as helping to reduce fuel consumption, emissions and maintenance costs. It enables the pump to provide up to 282 L/sec of flow."