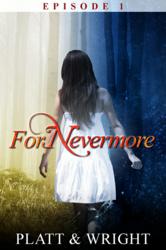 They marketed both in the blender and poured mixed results.
Cincinnati, OH (PRWEB) September 06, 2012
Sean Platt and David Wright, serialized fiction authors of the Young Adult (YA) book ForNevermore, have redesigned the cover of their recent reader favorite to cast its net on a wider audience.
Believing that most readers do judge a book by its cover, they have consulted with an outside designer to create a look that will speak directly to their ideal reader.
When serialized fiction authors, Sean Platt and David Wright, published ForNevermore earlier this year as a followup to their crowdpleasing Yesterday's Gone, they faced a dilemma -- did they market their new Young Adult serial to their regular readers, lovers of their adult post-apocalyptic serial, or to young adults, who they primarily wrote the book for?
They marketed both in the blender and poured mixed results.
"Many of our regular readers said they didn't know what to expect. Some heard Young Adult, and ran for the hills, imagining sparkling vampires and forests filled with mopey teens," said co-author David Wright. "But then we started getting the fan mail and the chatter. Readers who took a chance, found it was just as action-packed and terrifying as our regular stuff, just without the dirty words. They loved it!"
Still, ForNevermore is the maverick duo's least successful title to date, coming nowhere near the sales numbers of Yesterday's Gone or their sci-fi serial, WhiteSpace. Even their first novel, Available Darkness (written pre-serial) outsells the YA title.
"The big problem is that ForNevermore did well enough to garner us some fans anticipating a second season, and dying to know how we answered all the questions raised in the first, but not so well that a second season was financially sound," said co-author Sean Platt. "But we believe in the story, are energized by our second season outlines, and eager to deliver on the promise made to all the readers who told us it was their favorite season so far – the first they could share with their children."
The duo went back to the blank page, identified where they went wrong when marketing the first season (six episodes, or books) of the series. ForNevermore is praised for blending dark fantasy, horror, and a bit of romance, but the original covers weren't designed with an eye toward the most likely reader -- young adults.
They consulted with Ohio-based cover designer Stephanie Mooney who has designed book covers for Edward W. Robertson, Patti Larsen, Lauren Hammond, Shauna Granger, Abbi Glines, and others to come up with a more "YA-looking" cover.
"Stephanie knocked it out of the park!" said Wright. "We wanted something which conveyed the duality of Noella's existence. This cover nails it. Stephanie did an awesome job."
ForNevermore tells the story of 17 year old Noella Snow, living a miserable existence in upstate New York. With both parents dead, and few friends, Noella is an outcast. However, when she closes her eyes, she lives a different life, in a world where her father is still alive, and she's in love with the mysterious Dante. When a man pulls a gun on her, the two worlds collide.
Platt and Wright are using Amazon's KDP Select program to make the first episode of the ForNevermore series free for three days from September 5 - September 7, 2012. Episodes after that cost $2.99, but the full season (of all six episodes) can be bought for $4.99.
Here's what some Amazon reviewers have said of the series:
"Absolutely Addictive!!!"
"Converted!"
"A Paranormal Mystery of a Thrill Ride!"
"Forever Hooked"
Platt and Wright are the self-proclaimed Kings of the Serial, who are spending 2012 releasing a book per week, spanning across several serials (including the smash hit post-apocalyptic serial Yesterday's Gone, WhiteSpace, ForNevermore, Available Darkness, and collections of their Twilight Zone-inspired Dark Crossings short stories.
Read more about their book-per-week quest at CollectiveInkwell.com.