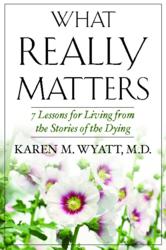 There is much to be learned by viewing life through the eyes of those who have already confronted their own mortality.
Silverthorne, CO (PRWEB) September 07, 2012
A "perfect storm" is brewing for the approximately 79 million members of the baby boom generation, according to Colorado physician Karen Wyatt. With advancing age, these individuals face not only concern over Medicare and Social Security, but cope with the passing of their parents while also confronting the inevitability of their own death, she said. However, our society, obsessed with youth and success, has ignored the reality of death and loss for several decades, leaving most baby boomers ill-prepared for challenges brought by the end of life. In addition, much of this generation, including the 42% who have dropped out of all religious practice during adulthood, are lacking the spiritual skills many people rely on to manage crisis and catastrophe. Add that to the global disruptions occurring in today's environmental, economic and political arenas, and we find an urgent need for a new way of seeing life and death in the 21st century, Dr. Wyatt claims.
Dr. Wyatt, a hospice physician, found that there is much to be learned by viewing life through the eyes of those who have already confronted their own mortality, facing the crisis head-on. Her new book, "What Really Matters: 7 Lessons for Living from the Stories of the Dying," presents the stories of dying patients as source material for the spiritual lessons to help survive the challenges of the future on this planet. Through the combination of storytelling and spiritual discourse, each of these lessons is conveyed in a manner that inspires the heart and soul while enriching the mind.
Like Mitch Albom's "Tuesdays With Morrie", which presented a touching story of one man learning about life through the dying wisdom of his mentor, What Really Matters tells the stories of numerous patients at the end of life and the transformative lessons they learned through their suffering. And, in a manner similar to "The Power of Now" by Eckhart Tolle, each of these lessons is deeply explored, providing the reader with a map for the process of growth in consciousness.
While the lessons are based on ancient wisdom common to all the great religions, they mirror the seven statements attributed to Jesus on the cross, and are entitled Suffering, Love, Forgiveness, Paradise, Purpose, Surrender, and Impermanence.
Though this book uses verses from the Christian tradition, its spiritual focus is not limited to any particular religious belief or philosophy and offers timeless wisdom to all readers, even those who do not identify with any particular practice or faith. In fact, the book may be thought of as a spiritual primer for the non-religious, teaching the basic principles of living a conscious life to those who may be seeking greater awareness for the first time in their lives. Of course those readers with more advanced spiritual experience will also benefit from the beauty of these teachings.
Each chapter begins with a specific patient story to illustrate the lesson being taught. The final chapter of the book, Living the Lessons, provides a practical approach for implementing the teachings in daily life, including some tools and resources for those who wish to create or augment a spiritual practice. Ultimately, learning these seven lessons will help advance the consciousness of individuals, communities and societies, enabling the emergence of new ideas and solutions to the problems facing the planet.
About the Author: Karen M. Wyatt, MD is a family physician who has spent her 25-year medical career working with patients in challenging settings, such as hospices, nursing homes and indigent clinics. She has founded a free medical clinic in a homeless shelter, accompanied three medical mission teams to Honduras, and led a non-profit clinic for the uninsured in its growth from a 4-hour per week all-volunteer operation to a full-time, full-service medical center. She has twice testified at Senate briefings on the cutting edge model of integrated medical care, combining physical and behavioral health, which she helped create and implement in her clinic for the uninsured.
A contributor to the book Consciousness & Healing: Integral Ap-proaches to Mind-Body Medicine, edited by Marilyn Schlitz and Tina Amorok (Elsevier, 2005), she is also the author of "A Matter of Life and Death: Stories to Heal Loss & Grief" and the ebooks "Loss and Grief Survival Guide" and "Coping With Life-Threatening Illness." A frequent lecturer for hospices and other groups on end-of-life issues, Dr. Wyatt has received numerous awards, including the Spirit of the American Woman Award, and was named one of Utah's 100 Notable Women.
What Really Matters: 7 Lessons for the Living from the Stories of the Dying
Karen M. Wyatt, MD
http://www.karenwyattmd.com
Pub Date: March, 2012
Price: $16.95 softcover
ISBN 978-1-59079-217-9
Published by Select Books, Inc., New York