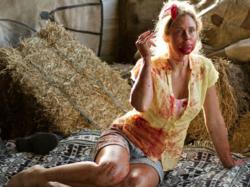 why would these emotions go away just because you're a reanimated corpse?
Auckland, New Zealand (PRWEB) September 06, 2012
Media Design School's zombie romance Rotting Hill is invading film festivals across the globe like an epidemic.
The short film has been selected for seven international festivals within the last month alone including Siggraph 2012 (Los Angeles), Prix Ars Electronica (Austria), Atlanta Horror Film Festival, Mile High Horror Film Festival (Colorado), Charlotte Horror and Sci-Fi Film Festival (North Carolina), Telluride Horror Show (Colorado) and New Orleans Horror Film Festival.
"The film has also cracked one million views on Vimeo recently," says director James Cunningham. "The enduring popularity of the film, more than a year after completion [in June 2011], is a credit to the talented cast and crew including the Media Design School 3D Animation & VFX students who handled the special effects, pre-production and helped out with filming on the day."
Rotting Hill is a love story between two zombies played by Kiwi actress Anna Hutchison (Cabin in the Woods, Go Girls, Underbelly) and Australian actor Jason Smith (Home and Away, Legend of the Seeker) who fall in love amidst an apocalypse.
"I think deep down, we all want to love and be loved. Zombies used to be humans too, so I guess the idea behind the film is why would these emotions go away just because you're a reanimated corpse?" says Cunningham.
Rotting Hill will receive another lease of life in coming months when the school launches an ambitious new digital marketing campaign in coming weeks. More information will be released shortly by Media Design School.
ABOUT MEDIA DESIGN SCHOOL
Media Design School is New Zealand's most-awarded private tertiary institution for digital and creative technologies. The Auckland-based school offers degrees and diploma qualifications in 3D computer animation and visual effects, interactive gaming, graphic design, creative advertising, and digital media. Media Design School is part of Laureate International Universities, the world's largest private university group with over 55 universities in 28 countries, including dedicated design schools in San Diego, California, and Santa Fe, New Mexico, USA; Berlin and Hamburg, Germany; and Milan, Italy.